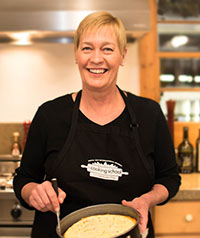 Dear Friends of the Cooking School,
We hope you are all healthy and safe. Due to the coronavirus threat, we have made the decision to suspend all cooking classes through August. We will keep our fingers crossed that all goes well this summer and we will meet again this fall for entertaining and delicious cooking classes starting in September. Please look for the fall brochure to arrive in your mailbox at the end of July.
Thanks for your ongoing support!
Keep cooking and making good food,
Leigh Barnhart Ochs – Cooking School Director