Beer & Wine
Expert driven and award-winning, our Beer & Wine Department is second to none in selection and variety. More than 17,000 wine labels, over 4,000 beers from around the world, and a climate-controlled Wine Cellar full of hard to find bottles make us one of the largest retailers in the country. But quantity isn't our goal. Expert advice and knowledge from a staff of craft beer aficionados and wine lovers is where we truly shine. Each location features a Tasting Bar where you can sample bottles of wine, craft beer on tap, or grab a glass or pint to enjoy while taking a break from shopping. Oh, and every Friday, we hold a Pint Night featuring different breweries every week, as well as weekly Wine Tastings at each location!

Want to learn more about all things Beer & Wine at Jungle Jim's? Sign up for our Brew Crew and Wine Passport e-newsletters for the latest and greatest from the Beer & Wine Department!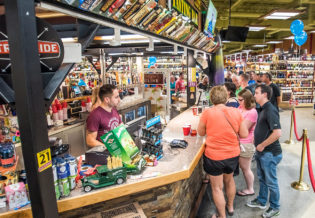 Pint Nights
Join us for Pint Night every Friday from 5:00 PM – 9:00 PM for great craft beers, with pints starting at $4 from our featured breweries, and you even get to take home your glass (as available).
Featured breweries change every week and always feature some special brews. Each Jungle Jim's will have a different brewery, so look for your favorite, gather your friends, and come out for a great time.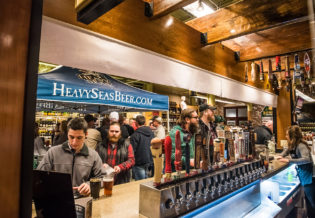 Tasting Bar
If you're overwhelmed by the beer and wine selection in the Jungle, feel free to stop by and visit the Tasting Bar. This is a great place to try out some beer and wine varieties and find your new favorite beverage. A wide selection of wine and beer is available daily, so check here for updates, call ahead, or just stop by. Make sure to invest in a JJ Growler and fill it up with a tasty brew from the many varieties on tap.
Don't forget to join us on Friday for Pint Night from 5-9pm. Bring your friends and purchase a pint of any of the unique microbrews available on tap. This is the perfect place to stop by and unwind after a long week!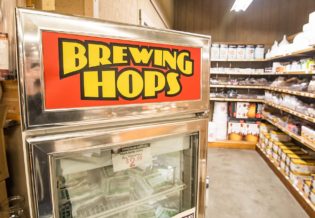 Home Brewing
Homebrew is a commonly used term for alcoholic beverages, especially beer and wine made in an individual's home. We stock quality home brewing supplies to get the novice started or keep the successful home brewer going. Use our great selection of high quality brewing equipment, kits and everyday supplies for your brewing needs. We stay stocked up so you can delve into this fun & educational past time.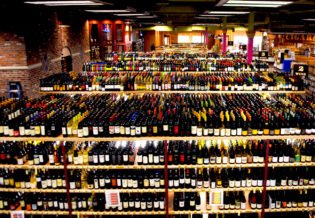 Wine
From incredible values to hard-to-find and limited bottles, the Wine Department at Jungle Jim's International Market is the only place you need to shop for the wines you already love, and the wines you have yet to try. More than 17,000 wine labels line the shelves of the Wine Department at both locations, offering endless variations on style, and an experienced, knowledgeable, and friendly cast of characters to help you navigate it all.
Not sure where to start? Each location hosts Wine Tastings and special events, including Virtual Tastings with winemakers from around the world in our newly renovated Eastgate tech-space, JXC. Everything culminates in the wine event of the year, our International Wine Festival, which features more than 400 wines from over 90 wineries.
Sign up for our FREE Wine Passport E-Newsletter for Expert Picks, Education, Monthly Tasting schedules and more!
Looking for rare and unique wines? Check out our Wine Cellar Inventory! 
Best of Cincinnati winner 2021!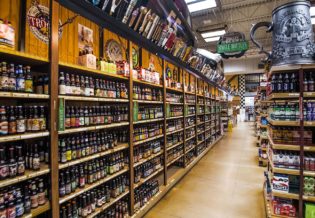 Beer
Craft Beer is here to stay, and we're proud to say that our Jungle Jim's Beer Department has been a part of the local, regional, and national Craft Beer movement from the beginning. Over 4,000 beers from down the street to across the sea are available in our award-winning Beer Department – there's something for everyone. But don't worry, we still have all of the old standbys and favorites, as well as an ever expanding selection of hard ciders, non-alcoholic beverages, and great deals. Be sure to check out the Tasting Bar at each location, each with dozens of craft beers on tap and special Pint Night events every Friday!
Be sure to join us annually for our International Craft Beer Festival, and Barrel-Aged Beer Bash.
Follow us on Twitter, @JunglesBeerGuy, for all the latest arrivals, and to ask questions and interact with fellow Craft Beer fans!
Sign up for our FREE Brew Crew E-Newsletter for Expert Picks, Education, Monthly Pint Night schedules and more!
Best of Cincinnati winner 2021!