About Jungle Jim's International Market
Past: From the beginning, Jungle Jim's was an idea bigger than the sum of its parts. Starting out as a roadside produce stand and slowly growing into what we are today has given us a unique perspective – not just on groceries and how to sell them, but what kind of experience that should be. Jungle Jim himself has always been a bit larger than life, so starting small only means we appreciate where we are now that much more.
Present: With two locations, more than 500,000 square feet combined, hundreds of thousands of products, and over 70 countries represented, Jungle Jim's International Market is locally grown, but internationally known. We're a destination for foodies, tourists, and weekly shoppers alike; from just around the corner to across the pond and beyond. Everyone who walks through our doors can shop without borders, and they share that experience with so many others.
Future: We're always looking for the next big thing; not just to get on the shelves or into your carts, but unique and challenging projects that will make your experience at Jungle Jim's International Market that much more memorable. Every time you walk through the doors, we want you to find something new to be excited about, and, of course, give you a reason to come back.  
Upcoming Festival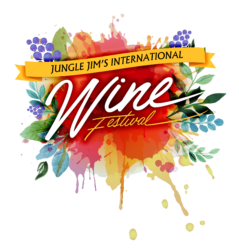 Jungle Jim's International Wine Festival
Going on twelve years, Jungle Jim's International Wine Festival is your chance to try hundreds of wines from around the world in an atmosphere of elegance and sophistication. With over 400 wines, this is the premier event for wine enthusiasts and beginners alike. Discover new favorites from around the world, indulge in light appetizers from our professional chefs, or upgrade to Connoisseur for an exclusive experience at The Oscar Station, our brand-new event space featuring the famous Jungle Jim's monorail. Most importantly, enjoy a memorable evening with family and friends as you explore the world of wine.
Jungle Jim's Barrel-Aged Beer Bash
Aged in bourbon, tequila, wine, or rum barrels, barrel-aged beers are often deeply flavorful, nuanced, and intense. Our one-of-a-kind Barrel-Aged Beer Bash celebrates the art of barrel-aging by bringing together barrel-aged beers of all kinds. From light and funky to sour and bright or deep, dark, and roasty, there's something for everyone to try and enjoy!