Specialty
Like Jungle Jim's itself, there are quite a few areas that defy categorization. While we think everything on the shelves is special, these are what we consider some of our specialties…
Looking for hundreds of honeys or syrups? Want some of your favorite candies no matter the decade? Is kitchenware your thing? The list goes on. No shopping trip is complete without taking advantage of all the specialties you have at you fingertips at Jungle Jim's!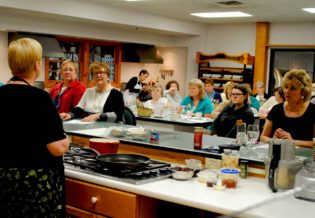 The Cooking School
Welcome to the Cooking School at Jungle Jim's International Market. Recreational cooks of every skill level will find our hands-on and demonstration classes to be fun, informative, and delicious. If you are traveling in Ohio or live in the Cincinnati area, we invite you to register for a cooking class and improve your culinary skills. The Cooking School at Jungle Jim's International Market was voted the Best Of Cincinnati 2013, 2014, 2015, 2016, and 2017. We are committed to offering recreational cooks the best and most diverse class offerings.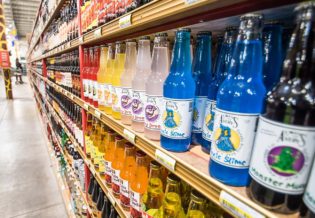 Specialty Soda
What makes a soda "specialty?" Well, these are the sodas that challenge your taste buds, are named to make you laugh or raise an eyebrow (and pick up a bottle, of course), and pack more flavor than your typical, everyday soda offerings. The shelves at each location are filled with colorful, unique, delicious, and genuinely weird bottles and cans, some of which you can grab one or two at a time, some you can take home in 4- or 6-packs. Looking for a new root beer to try? We have it. Or do you want something truly different, like Buffalo Wing Soda? We have that, too.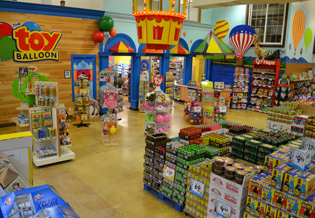 Toys & Collectibles
Ohio's Largest Specialty Toy Store, this is your destination for a wide variety of high-quality, educational, and unique toys and gifts that will spark the imaginations of kids of all ages. Offering retro and classic games for adults, as well as educational, entertaining, and exciting toys for kids of all ages, Jungle Jim's Toys & Collectibles is an exceptional store stocked with truly exceptional items.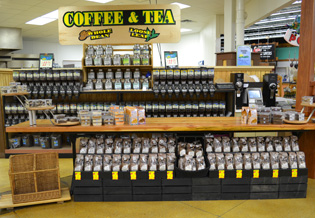 Coffee Bar
Coffee can be found in other areas of our store such as American Grocery and International, but why not have the full service experience at our Coffee Bar! We stock over 50 varieties of Seven Hills coffee from bold blends to flavored favorites. A local micro-roaster, Seven Hills has been providing Jungle Jim's with the best quality beans for 20 years. It's a great local partnership! You can also find over 20 varieties of loose-leaf teas!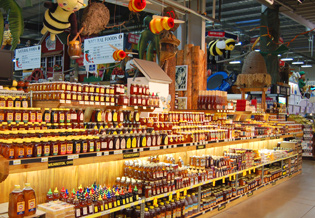 Honey
Your one stop shop for all things honey, both stores have created spaces dedicated to this sweet, savory, and delicious natural creation! Looking for whipped honey, or honey candy, butter, or cream? Want to try a new kind of honey? With dozens of honey varieties to choose from, and even more honey-related items, the Honey Table in Fairfield and the Honey Hive at our Eastgate location are both packed with gallons of honey goodness.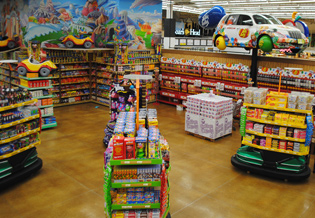 Candy
While there may be candy and sweet treats in almost every department throughout Jungle Jim's International Market, our Candy Castle is the spot to find many of your favorites, new and old. From candy classics to the latest and greatest, Jungle Jim's Candy Castle features walls and shelves of new and classic candies, light up candy contraptions, gum, candy bars, lollipops, and so much more.
Whether you're looking for childhood candies or a humorous gift for friends and family, Jungle Jim's Candy Castle can satisfy your sweet tooth, no matter how big it might be!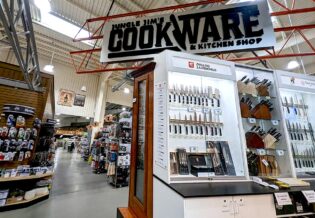 Cookware
Located inside both Jungle Jim's International Markets, Jungle Jim's Cookware is the premier destination for all of your kitchen needs. Hundreds of handy gadgets, top of the line, brand name cutlery, cookware and bakeware, exclusive items, and more, Inspire your inner chef with Jungle Jim's Cookware! Where else can you buy everything you need for your kitchen and everything you need to make awesome and interesting meals?
Peruse our famous Gadget Wall, lined with over 2,000 different tools, or stop by to check out Demo Days or to see what's on sale. Our experts are ready to guide you to the perfect pan, show you the most necessary knives, and point out the most productive appliances available.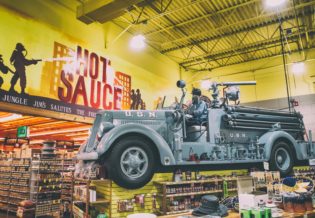 Hot Sauce
In case you didn't know, we're serious about Fiery Foods at Jungle Jim's. With more than 1,500 hot sauces, and hundreds of BBQ sauces, spices and rubs, wing sauces, salsas, and mustards, our Fiery Foods Department is ready to spice things up and take it over the top!
From mild to wild, simple to complex, and right around the corner to across the globe, we know Fiery Foods. Just look for the Fire Truck inside the store, and follow it to one of the largest and most flavorful collections in the region.
Want to experience the ultimate Fiery Foods event around? The Weekend of Fire is our yearly celebration of all things hot and spicy – check it out!