Fresh
From our vast Produce Department, bountiful Seafood selection, and bustling Deli counter, high-quality fresh foods are a vital part of what makes Jungle Jim's so unique. We want you to take home the best olives around, grill chicken and steak that you can't wait to share with your family and friends, and experience Jungle Jim's International Market in all new ways every time you visit.
We're ready to educate, sample, and showcase as much of our store as possible, so don't be shy! Experts are at the ready in each department, so come hungry and leave happy. Then come back and do it all over again!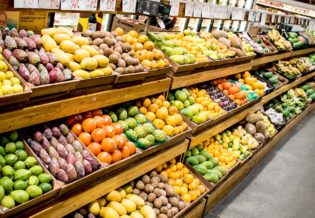 International Produce
If you've seen, explored, or even heard of our Produce Department, you know how seriously we take fresh fruits and vegetables. Our International Produce Department is no different.

Filled with fresh, high-quality, regionally and internationally sourced produce, this is where you'll find some of the most interesting, flavorful, and exciting items we have to offer. From traditional to exotic, there are ingredients to help you create new dishes or bring back the taste of home. Both locations feature a wide variety of regularly available items, with seasonal items when they're available. And, you never know, you might find something one day that you won't ever see again.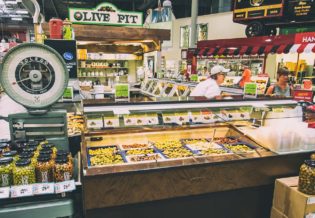 Olive Pit
At Jungle Jim's, we want you to truly explore and experience the World of Food, and The Olive Pit is the perfect place to start. Bursting with olives from across the globe, The Olive Pit features varieties soaked in unique brines, stuffed with all kinds of amazing ingredients, and mixed with other olives to create an outstanding, mouthwatering selection.
But that's not all… The Olive Pit also features a selection of Mediterranean salads and marinated vegetables, antipasto, fresh mozzarella, and so much more!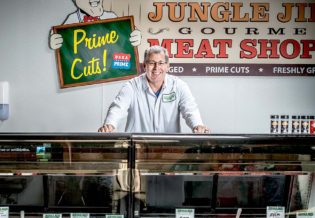 Meat
High-quality, fresh meats should be the hallmark of any reputable Meat Shop. At Jungle Jim's, our Old Fashioned Meat Shop's selection is unequaled, and we strive daily to make sure the quality and freshness match. Featuring a selection of exotic and hard to find products (rattlesnake, anyone?), as well as traditional American favorites, we're proud to offer the unrivaled experience of butchers on the premises every time you walk up to the counter or check out the coolers.
Freshly made sausages, seasoned and packaged cuts of a variety of meats, in-house dry-aged beef – we're your one stop shop for all things meat. And don't forget, we do special orders and packaging – your holidays will never be the same again!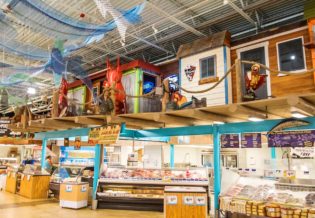 Seafood
With deliveries arriving five days a week, the Jungle Jim's Seafood Department offers a vast selection of fresh fish and other seafoods to meet the needs of any palate. Whether you're venturing into the world of seafood for the first time, or know exactly what you like, our experts are ready to answer any questions you have and help you find the perfect addition to any meal. Even better, we'll trim and cut your selections just the way you want them, and offer hints and tips about how to cook them once they're in your kitchen!
Looking for live lobster? We have over 1,000 pounds delivered fresh every week! Want something unique and delicious? We smoke our own fish, in-house!
High-quality, nutritious, and tasty, just the way fresh seafood should be.
Looking for the freshest selection? Look at some of our popular seafood items!
Best of Cincinnati winner 2020!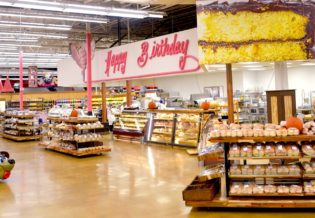 Bakery
Freshly made and baked from scratch, our Bakery produces over 700 loaves of bread daily – and even more on the weekend! Our pumpkin rolls, brownies, and cookies are made using Amish recipes, a wide variety of breads, pastries, and cakes make their way through our ovens, onto the shelves, and into your carts. Did you know that you can get made to order items from our Bakery? They're always willing to lend a helping hand, and are ready to talk to you about your baked goods needs. Just follow the scent of our ovens!
**New** Order custom cakes online from our famous Bakery Department at both locations! Fairfield / Eastgate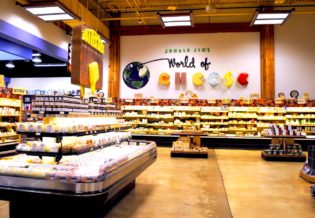 Cheese Shop
Don't let the name fool you– the Cheese Shop at Jungle Jim's carries more than 1400 cheeses from across the country and around the world, but also has a huge selection of world-class charcuterie, jams, crackers, and more. Not sure where to start? Just ask one of our experts behind the counter.
From fancy, smelly, or basic, to inexpensive, pricey, and even a little over the top, the Cheese Shop offers you the opportunity to pick up old favorites and try something new every time you visit. Trust us, your cheese plate will never be the same!
Don't forget! The Big Cheese isn't just a, well, big hunk of cheese, it's one of our biggest festivals where we throw the biggest party dedicated to cheese, charcuterie, olives, wine, and more every year! It's called The Big Cheese Festival and is held right here at Jungle Jim's International Market.
Best of Cincinnati winner 2020!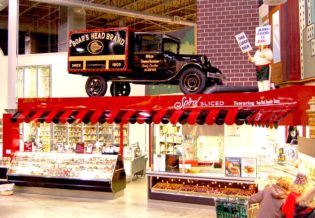 Deli
Featuring the area's largest selection of Boar's Head products, Jungle Jim's Deli is your one stop shop for all your deli needs. With fresh cuts of delicious meats and cheeses, we offer an extensive selection at great value.
Not only do we carry everything a deli should, we also have a large variety of products made in house! Pasta salads, our famous savory and dessert cheese balls, barrels of pickles, and more – Jungle Jim's Deli has what you're looking for.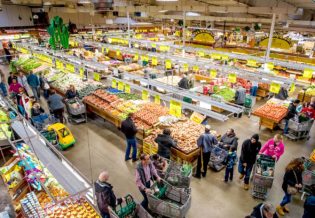 Produce
For Jungle Jim's, this is where it all began.
Fresh Produce is at the heart of what we do. From the start, Jungle Jim's has worked tirelessly to bring you a selection of fresh, high-quality, and delicious produce from farms just down the road, to all the way across the sea and beyond. With more than 800 different kinds of produce (and growing), our 1.5 acre Produce Department also features almost 100 varieties of Organic Produce. Whether you're buying a single fruit or vegetable to try, or purchasing in bulk, our experts are ready to educate, offer advice, and show you just how great fresh produce can be.
Bananas, tomatoes, cactus leaves, some of the hottest chili peppers available, and so much more – all right here, just for you! Sample our fresh produce and more at our yearly New Year, New You Health & Wellness Expo.