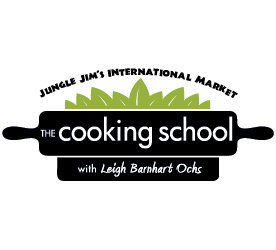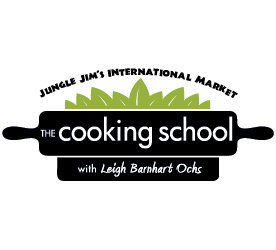 Dishing Up Award Winning Classes Since 1995
Offering hands-on and demonstration courses for all skill levels plus private events for up to 40 people.
Email Us
5440 Dixie Highway
Fairfield, OH 45014
Ohio's largest and most unique school!
Welcome to the Cooking School at Jungle Jim's International Market. Recreational cooks of every skill level will find our hands-on and demonstration classes to be fun, informative, and delicious. If you are traveling in Ohio or live in the Cincinnati area, we invite you to register for a cooking class and improve your culinary skills. The Cooking School at Jungle Jim's International Market was voted the Best Of Cincinnati 2013, 2014, 2015, 2016, 2017, and 2018. We are committed to offering recreational cooks the best and most diverse class offerings.
Letter from the Director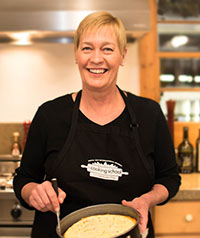 Dear Friends of the Cooking School,
We enter 2020 with excitement because the Cooking School has reached a memorable milestone – the 25th anniversary. This fall we will be celebrating with a look back at the people and classes that have earned us the "Best of Cincinnati Cooking Classes" for so many consecutive years. Thank you for your support! We hope we have contributed to delicious meals served to family and friends. The culinary trips to Tuscany and Emilia-Romagna, Italy, are planned for the end of May and into June. If you have read about these trips and considered joining us, please do. Each year we experience new places to explore and great restaurants, wineries, festivals and more. The Fico Eataly World excursion to Bologna was an outstanding day of food, drink and all the different agricultural products that make Italy such a gastronomic pleasure. We will return again in 2020 by popular demand if you join us for the Emilia-Romagna leg of the journey. Jack Keegan has brought new interest and information to our wine tasting classes. He recently completed a 4 session master class on the wines of the Bordeaux region of France for 12 lucky students. If you are hoping to improve your wine knowledge in 2020, consider joining Jack for a tasting class. He also selects the wine for our wine and food pairing classes and helps you learn to pair the best wines with your meals. We hope to see you in our winter classes. We have a full schedule with many different topics offered by our chefs – try something new. If you want to improve your culinary skills in 2020, we are here to help! Keep us in mind this holiday season – our gift cards are a good fit for family and friends and make an easy and thoughtful gift. Happy Holidays from our kitchen to yours!
Bon Appétit,
Leigh Barnhart Ochs – Cooking School Director


Featured by:

Award winning classes for all levels!
Classes at The Cooking School are meant for cooks of all skill levels. So if you're just getting started in the kitchen, have years of experience, or just want to try something new, there's bound to be something to help you get started on your next culinary adventure. Take a look at our brochure, follow us on Facebook, and keep an eye out for seasonally updated classes.
Wine Pairing dinners featuring American, Italian and French cuisine
Hands-on Sushi
Pizzas – hearth baked, grilled and stuffed
Holiday themed classes
Bourbon, Tequila and Food Pairing Dinners
Hands-on Bread Baking
So much more...
What to Expect at Class
How long are the classes?Our classes are 2 – 2 ½ hours in length (4-person workshops are an exception)
What kind of class format do you offer?We offer both hands-on and demonstration classes.


If you want full participation, look for "Hands-On" in the title and a hand icon beside the class description. Hands-on class size is limited so register early.


The chef will explain and prepare all menu items during demonstration classes, so look for the chef hat icon.
In both types of classes, students receive a complete recipe packet, enjoy a generous taste of each dish and are served wine as part of the class. Each class is led by experienced chef instructors.
Should I call to register for a class with a wait list?Yes. Occasionally seats become available and we fill available seats from the wait list.
What should I wear to class?Wear comfortable clothing and shoes. Please do not wear open-toed shoes to hands-on classes. We provide aprons and all the equipment you will need to use for hands-on classes.Our classroom can sometimes be a little chilly; please bring a sweater or jacket.
Who can attend?Due to class format and size, only paid participants may attend class. Infants and children may not accompany adults to class. Students must be 16 years of age and older unless otherwise noted.
Is Seating Reserved?Seating at the school is on a first come basis. If you need to save a seat, please come early.
A Few Items of Note:
Students will receive a discount coupon during the class. The 10% discount is valid for seven days on entire purchase of items located in the Gourmet Galeria. (Discount not valid in other departments)
Our overhead mirrors provide a good view for everyone, so no matter where you sit, you'll be a part of the experience.
During class you'll receive a copy of the recipes to take home.
Enjoy a generous sampling of all the dishes that are prepared (this is one of the best parts of the class)!
As a bonus, sample specially selected wine or beer that complements the menu.
Help yourself to the complementary coffee or tea before and during class.
Reservation Hours are 9:00 AM – 3:00 PM, Monday through Friday
What is your cancellation policy?Students may cancel registrations up to 7 days prior to the day of class. After that deadline, no refunds or credit will be issued. You may send a substitute. For registering three or more people for a class, a 14 day notice is required for canceling out of a class. This is the amount of time needed to find replacements for the class. When a refund is issued, students who pay in cash or check will receive a refund check. Those paying by credit card will be issued a credit towards their account. The Cooking School reserves the right to cancel a class should it be necessary due to weather, other emergencies or insufficient enrollment; and to substitute teachers and food items as required.
Tasting Icons

Demonstration

Hands-On

Daytime

Couples

Express

Beer & Food

Wine & Food

Wine Tasting
Culinary Trips Abroad
Take an international journey with the Cooking School's Culinary Trips Abroad! On each of our trips, you'll travel with Leigh and a group of like-minded curious travelers to discover foods from around the world. Each trip includes grand feasts where you'll dine on authentic international foods at local restaurants, time spent exploring famous cities or regions, and tours or educational classes where you'll learn about the region's local delicacies. When you travel with us, you'll have plenty of free time to explore on your own plus you'll gain access to expert epicurean knowledge through Leigh and our local guides! It's the best way to experience international food and culture!

For more information or to register call 513-674-6059
Emilia-Romagna, Italy – Off the Beaten Path
Friday, May 22 – Sunday, May 31, 2020
Benvenuti in Italia! Travel to Cento, Italy to meet Leigh and our host, Don Govoni, for our eighth unique culinary tour "off the beaten path" in the Emilia-Romagna region. Enjoy nine nights in beautiful Cento at the Hotel Europa and take leisurely day trips to the mountains, the plains and the Adriatic coast, all the while sampling the region's splendid cuisine. Indulge in local specialties including handmade tortellini, cappellacci, and artisanal cured meats and cheeses. Eat, drink and be merry alongside the locals at a sagra as they celebrate and share their local specialty. Taste regional delicacies like borlenghi and tigelle – foods that even most Italians have never heard of, accompanied by local wines including the real Lambrusco. Savor the bounty of the sea where local fish and shellfish unique to the Adriatic are expertly prepared. We have added a day again to our trip this year to visit Fico Eataly World, the largest food park in the world. These are just a few of the epicurean delights that await those who join us on this tour. Don spends months each year in his ancestral home and is excited to again showcase this region that is seldom explored by tourists.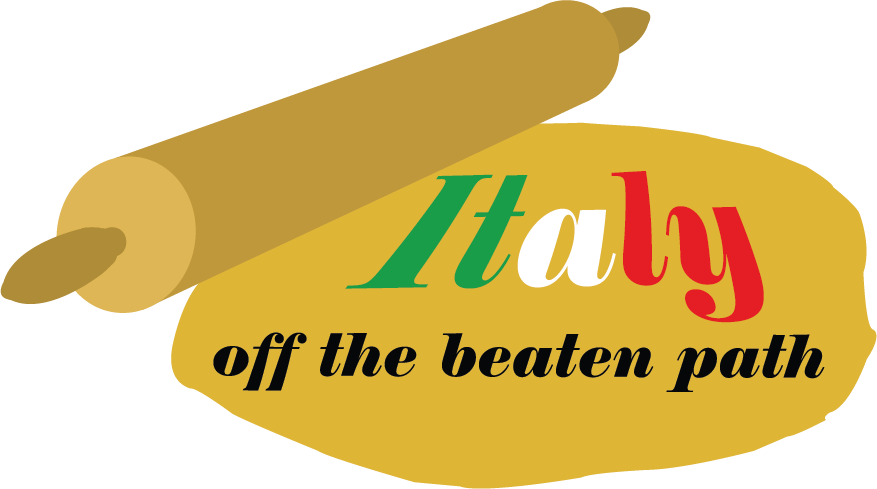 Highlights include:
Lunch and afternoon at an agriturismo
Attending a local sagra (festival)
Visit the Republic of San Marino
Enjoying fresh seafood on the Adriatic coast
View Parmigiano Reggiano production
Experience borlenghi and tigelle in the foothills of Modena
Tours of a balsamic vinegar acetaia, the Cento Market, and a cured meats facility
Indulge in mushrooms and truffles in the Appenine Mountains
Pasta Making class in Cento
Gelato Master Class Gelato University in Bologna, Italy
Fico Eataly World, Bologna
Details:
$3000.00 per person, double occupancy (airfare on your own)
$275.00 Single Supplement
Space is limited
A $1000.00 per person non-refundable deposit will secure your reservation
Balance of $2000.00 due no later than February 29, 2020
Includes breakfast daily, 7 group lunches with wine, 4 group dinners with wine, group airport transfers (one designated time), ground transportation for group activities throughout the week.
For more information or to register call 513-674-6059
For more information or to register call 513-674-6059
The Wine and Food of Tuscany
Sunday, May 31 – Sunday, June 7, 2020
Travel to Greve in Chianti, Italy to meet Leigh for our third wine and food tour in the beautiful region of Tuscany. Enjoy seven nights in quaint Greve, located between Florence and Siena. Our hotel (Albergo Del Chianti) is on the charming main piazza and within walking distance to many restaurants and shops.
From our base in Greve, we will visit the historical villages of San Gimignano, Montalcino and Siena. Our winery visits with tour, tasting and lunch include Felsina, Casato Prime Donna (winemaker and vintners are all women), Fattoria Poggio Alloro (family owned) and Sant'Agnese Farm (boutique winery). We have lunches and dinners planned to showcase the beauty and cuisine of the region. There will be a full free day in Florence and open afternoons in San Gimignano, Montalcino and Siena.
Highlights include:
Welcome dinner at a highly regarded restaurant in tiny Lamole
Agriturismo visit with tour, wine tasting and lunch
Market day in Greve in Chianti
Winery tour, Brunello tasting and lunch in Montalcino
Dinner with the famous "Butcher of Panzano" (Officina della Bistecca)
Boutique winery and farm, tour/tasting and lunch
Farewell dinner on the piazza in Greve
Details:
$2900.00 per person, double occupancy (airfare on your own)
$375.00 single supplement
$1000.00 per person non-refundable deposit will secure your reservation
Balance of $1900.00 due no later than February 29, 2020
Includes breakfast daily, 8 group meals with wine, group airport transfers (one designated time) and ground transportation for group activities
Space is Limited. For more information or to register call 513-674-6059
For more information or to register call 513-674-6059
Leigh Barnhart Ochs (Director)
Leigh is the director of The Cooking School at Jungle Jim's International Market. She was a guest instructor at The Cooking School from 2005- 2010 when she assumed directorship. Her training includes ten years of cooking school sessions at LaVarenne at The Greenbrier in West Virginia, cooking and studying with Julia Child, Anne Willan, Lynne Rossetto Kasper, Todd English and other top chefs in the industry. Leigh has worked as both a personal and private chef and owned a cafe in Cincinnati. She has made appearances in the cooking segments for "The List", WCPO Channel 9, WKRC, Channel 12, WDTN, and Fox's 19 Morning Extra Show along with radio and newspaper features. Leigh has served in recipe development as well as recipe testing for a James Beard Award winning author. Be Your Guest (2005), Leigh's first cookbook, teaches busy people how to prepare simple, make-ahead recipes for maximum flavor with minimum work. She compiled and edited The Cooking School's 15 Years of Cooking School Recipes (2010). Currently she is working on another cookbook. Her professional membership includes the United States Personal Chef Association (USPA). Leigh holds a Bachelor's degree from Miami University and a Master's degree from the University of Cincinnati.
Instructional Team
Local, regional, national and international chefs make up our instructional team each session. In-house wine and beer experts along with distillery representatives provide current information that enhances the exciting menus and delectable recipes our chefs cook up for class. It has never been easier or more convenient to experience a culinary adventure right here in Cincinnati!

Susan DiehlBorn in Cincinnati, Susan spent a few years and many summers in England. While abroad she attended a private school and majored in culinary skills, receiving her training from chefs from the Cordon Bleu in Paris. Susan opened 'Epicuriosity,' Cincinnati's first gourmet carryout and catering business in 1985. She is currently a chef at Garnish Catering.

Don GovoniDon Govoni is a professional chemist and chemistry professor with a passion for Italian cooking, in particular the regional cuisine of Emilia-Romagna. Over the past 25 years, Don has been refining his skills at making homemade pasta that he learned from his grandmother and relatives who live in the fertile plain outside of Bologna. He lives part of the year in the town of Cento, which is situated between the cities of Bologna, Modena and Ferrara, and may be the gastronomic epicenter of Italy. Don combines his passion for Italian cooking with his passion for teaching and is also an experienced winemaker, sausage maker and makes the cured meats of his region.

Rita HeikenfeldRita is a certified herbalist and a featured national speaker. She's a member of IACP, a certified Professional Level II instructor, an award winning syndicated food columnist in the Community Press Newspapers and author of several cookbooks. The founding editor of her website "Abouteating.com" and her blog "Cooking with Rita" on Cincinnati.com, Rita also has an international weekly cooking segment on Sacred Heart Radio, and is a resident herbalist for Granny's Garden School, Natorp's Garden stores and Fox 19's Morning Extra show.

Renee LevyRenee was born in Panama and is truly bicultural having lived in several Latin American countries including Colombia and Mexico as well the United States. She taught elementary school Spanish for five years. She is a graduate of the Cordon Bleu Mexico City. Renee's passion is healthy, clean cooking that doesn't compromise taste. She currently works at Garnish Catering.

Catrina MillsCatrina was born and raised in two great food cities: Chicago and New Orleans. After serving in the Air Force, she spent 21 years working for the VA. She is a trained chef having graduated from the Midwest Culinary Institute and the University of Cincinnati, a cooking instructor, mother, culinologist, published author and creator of her own line of spices. She owns her own catering business in Cincinnati.

Bryn MoothBryn is the editor of Edible Ohio Valley magazine and author of "The Findlay Market Cookbook." She also writes the Midwest-based food blog writes4food.com, which share recipes, kitchen wisdom and explores regional foods and producers. While she doesn't hold a formal cooking degree, she trained in the kitchens of her mother and grandmothers. She and her husband, Rob, are avid cooks, wine lovers and advocates for the Cincinnati food community

Ellen MuellerEllen loves to cook and entertain family and friends. Since Ellen is Greek, food is the cornerstone of many family functions and traditions. She has been a sous chef at Jungle's Jim's for six years and teaches Mediterranean classes. Her love of cooking continues to be inspired by the many chefs she assists at the school.

Laura RinskyLaura, although born in Cincinnati, has taken her passion for cooking around the globe. Combining her culinary talents and love of travel she has engineered her career to include cooking classes from many parts of the world. After volunteering for many years at the Cooking School at Jungle Jim's she extended her passion into teaching others. Family and friends know that dining at Laura's for special occasions is always a great treat. Laura is owner of Wayfarer Travel in Madeira, Cincinnati's oldest independent agency

David SchmerrDave started making wine when he was a teenager and that started a lifetime of being in the wine business. Dave worked at Shillito's for 3 years until he began working in the wholesale business with the 7th largest wholesaler in the United States, Allied Wine and Spirits. After a 9 year stint as a wine buyer/manager he came to Jungle Jim's in 1987 as the wine buyer/director. Dave does wine tastings at Jungle Jim's and travels extensively throughout the wine world.

Rob SeidemanAs the founder of Salt Traders, Rob is credited with popularizing gourmet salts as we know them today. He's also the founder of the Cooking School of Aspen, served as the food columnist for the Aspen Daily News, and now assists food companies around the globe with strategy and innovation. He has also led culinary adventures throughout Italy, Morocco and South Africa.

Madhu SinhaBorn and raised in India, Madhu Sinha came to Cincinnati 13 years ago. Cooking is a passion with her. She loves to encourage her students to bring in the warm, nutty, and fragrant Indian spices into their kitchens and into their hearts. She holds a doctoral degree in Victorian Literature and teaches at the Miami University Hamilton campus.

Calvin TamBorn in China, Calvin moved to Cincinnati during his teen years. In high school he learned to make sushi and now is an accomplished expert. Calvin likes to experiment using different ingredients in his sushi. He is the owner of Sushi Monk, a restaurant specializing in sushi and Japanese cuisine. He offers custom catering and specialized sushi instruction. He is also the owner of Monk Express, his new food truck. www.sushimonk.com
Our StaffJenny Rupp (Office Manager)Most of the time you'll hear her voice over the phone, she will also assist at classes.
Ellen Mueller, Debbie LaVoie, and Catrina Mills (Sous Chefs)They are instrumental in preparing for classes and keeping the school in good running condition.
Lora Allen, Anne Burkhart, Doris Delaney, Susan Diehl, Linda Jamison, Sheryl Jones, Marilyn McKnight, Debbie Menninger, Lyn Plummer, Marian Riestenberg, Laura Rinsky, and Mike Sprinkel (Classroom Assistants)As the backbone of the school, their efforts before and during class enable our program to run smoothly and efficiently. All of our instructors are most grateful for the help they provide during their classes.
Add flavor and fun to your next event!
Need a new place for get-togethers with co-workers, family and friends? Schedule a Private Cooking Class designed just for you and your group! Our cooking classes are always fun and informative, and you can select from two different formats: demonstration or hands-on. Menu options are endless.
Demonstration classes are great if you have a group of 40 or less who want to eat a great meal and learn how it is prepared, but want us to do the cooking. You and your guests can sit back, enjoy the show and eat some great food. Or maybe your group is a bit more adventurous. If so, schedule a hands-on class for up to 16 people. You and your guests will roll up your sleeves and learn to cook. Select from many great classes for a fun-filled event!
Contact us for more information and to make reservations.
Located Inside Jungle Jim's Fairfield Location!
Entrance for The Cooking School is located in the first aisle of the Beer & Wine Department.
The Cooking School at Jungle Jim's International Market
5440 Dixie Highway
Fairfield, OH 45014