Cigars & Liquor
Each Jungle Jim's location boasts an impressive selection of cigars for both aficionados and those new to the cigar world. Housed inside two world class humidors, our Cigar Department is your one stop shop for all things smokable from the world's top brands. Pipes and pipe tobacco, cutters, lighters, and more, you'll find everything you need – plus the expert advice you expect – when you visit our Cigar Shop.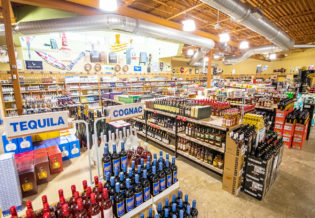 Liquor
Featuring a globe spanning selection of spirits and liqueurs from around the world, our State Stores at both Jungle Jim's International Market locations carry an incredible variety of hard-to-find rarities and old favorites. Whiskey, bourbon, scotch, rum, vodka, gin, and much, much more are available at all price points.

Located in the same area of each store as our Beer & Wine Departments and World Class Humidors, you can find everything you need for relaxing nights, dinner parties, and other exciting times with friends and family.
Are you looking to expand your palate and knowledge of all things Whiskey? Join us for our yearly Whiskey Night, a show dedicated to the fine process & tasting of Bourbon & Whiskey.
Regarding high-proof liquor, the State of Ohio is called a "controlled state," meaning that the state controls which high-proof liquor products are available where and at what price. To help manage this, the state has created OHLQ.com, where you can find current pricing and availability of high-proof liquor at Jungle Jim's.
Concerning highly-allocated products, Jungle Jim's is fully committed to letting as many of our customers as possible enjoy these special products. To ensure this:
Highly-allocated items will be stocked at random intervals as they become available.
Highly-allocated items will be limited to 1 item per customer.
We are unable to offer waitlisting or special orders on any high-proof liquors and due to how fast some items sell, we do not give information over the phone, about their availability.
For current liquor pricing and availability, click here Jungle Jim's Fairfield or Eastgate.
Best of Cincinnati winner!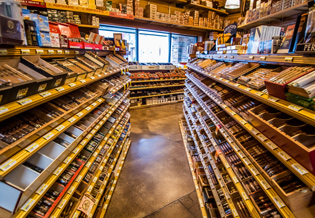 Cigars
Filled with both premium and budget-friendly cigars, pipes, tobacco, and accessories, our world-class Cigar Humidors at each Jungle Jim's location are a smoker's paradise. Dozens of brands line the walls of each smoke shop, and knowledgeable and friendly staff are ready to help you find exactly what you need. Traditional or otherwise, our Humidors are stocked with an extensive selection of imported cigarettes and clove cigars, pipes and pipe tobacco, and more. We're here to help you enhance your smoking experience. Visit our One-Time Deals page for a taste of what our Humidor offers.
Looking to meet up with fellow cigar enthusiasts? Each store hosts weekly Cigar Tastings – be sure to check our online calendar for a list of upcoming tastings in both Fairfield and Eastgate.
Best of Cincinnati winner 2020!