Weekend of Fire
Details for our 2020 Weekend of Fire are to be announced. For a taste of the hottest fest in the Midwest, explore the details below!
Back & Hotter Than Ever!
Hot sauce, salsas, mustards, rubs, hot sauce, marinades, beef jerky, and, oh, did we mention hot sauce? We're thrilled to announce that the 13th annual Weekend of Fire will take place on October 5 and 6 at The Oscar Event Center! This year, we're bringing you more samples, more fiery foods, and more heat with brand new competitions, newly-imagined WOFI awards, and plenty of the spicy foods that you love! Join us at the Oscar Event Center at Jungle Jim's Fairfield to sample and celebrate hundreds of fiery foods and, most of all, to have fun!
The Singe Bar
Craft your own hot and spicy cocktail at The Singe Bar! Our bartenders will provide the spirits for you to make the perfect Bloody Mary. Make them as mild or as wild as you want and challenge your friends to try something new!
New Competitions
New this year, we're pitting vendor against vendor in a fiery foods showdown to determine your favorites! Recipes from participating vendors will go head to head in the Arena of Fire, and we'll let you sign-up to try them, if you dare. Vote for your favorites to decide the 2019 champion!
Test your mettle in the Arena of Fire
You can purchase your favorite products right from the manufacturers! Each booth will have plenty of product on hand, so sample all you please and be sure to take some home for later. You can find some of the best deals of the year at the booths during the show.
Most of all, have fun!
We promise that this year's Weekend of Fire will be hotter and spicier than ever. More heat, more fun! So, on behalf of our Jungle Jim's team, we're officially inviting you to Weekend of Fire 2019! We can't wait to see you!
Directions, Parking & Lodging
The Oscar Event Center at Jungle Jim's International Market
5440 Dixie Highway
Fairfield, OH 45014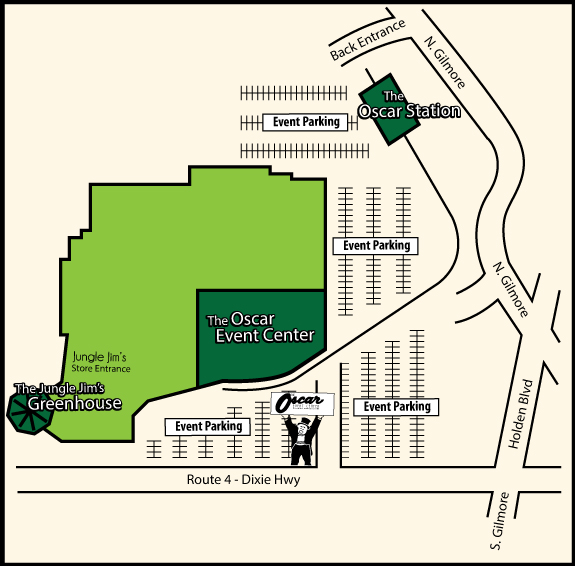 Need somewhere to stay?
Jungle Jim's has partnered with the following hotels and special offers may be available for customers who book their rooms with them. When making your reservations be sure to mention that you will be attending a Junglefest!
2019 Contests
Saturday

12:30 - Papi Joe's Blistering Bloody Mary garnished with Jungle Jim's Ghost Pepper stuffed Olives

1:15 - Chili Rocks Rockin Coney with Big Fork Three Pepper Bacon Sausage

2:00 - Blazing Foods Death Nut Challenge

2:45 - Feast of Fire

Sunday

12:15 - Katie's Premium Jerky & Snacks Flaming Ass Beef Jerky

1:00 - Scotty O' Hotty Spicy Pizza Sweats

1:45 - Vendor to Vendor Blind Wing Eating Throw Down

3:00 - Vendor Awards
2019 Vendors
A Special Thanks to our Sponsors!

Rainforest Water

Frontera Chips

Daddy Sam's All-Natural Sawces

Blazing Foods

Mi Nina Tortilla Chips

Yangs 5th Taste

Goldrush Farms

Saputo Specialty Cheese

Hank Sauce


Vendors

Scotty O'Hotty
Papi Joe's Tennessee Pepper Sauce Co.
Hoboken Eddie's
Oscar Event Center
Rising Smoke Sauceworks
Hell Fire Detroit
The Spicy Shark
Terrapin Ridge Farms
Skipkenny BBQ
Mi Nina Tortilla Chips
Bunker Hill Cheese Co. Inc.
Mesa Fresca
Corine's Cuisine
UrbanQ Smokehouse
Xcell International Corp.
Bellisari's Gourmet Sauces and Spreads
Ole Ray's Sauces
Granddads Original BBQ Sauce
Double Comfort Foods
Sawasdee Thai Cuisine
Uncle Stevie's
dude, seriously LLC
Daddy Sam's All-Natural Sawces
Juicymelt Supreme
Chili Rocks

Dave's Gourmet
David Evans Foods
Blazing Foods
Howard's Creek Authentic Beer Cheese
Yangs 5th Taste
Fair Ridge Farms
Uncle Snorey
Elijah's Xtreme Gourmet Sauces
Slap Ya Mama
SH' THAT'S HOT!
Little Diablo Salsa
Sauced & Glazed LLC.
Bravado Spice Co
Mutt's Sauce LLC
Goldrush Farms
Saputo Specialty Cheese
Delicae Gourmet
Wiltshire Chilli Farm
Volcanic Peppers
The Mustard Man
Clamlube Hot Sauce
Straight Up Salsa
Angry Irishman
Sol Pepper Company
Katie's Premium Jerky and Snacks
Eastland Food Corp
Pepper-R-Paradise
Gourmet Chips and Sauces
Tabasco
Nando's
Jungle Jims Olive Bar
Hank Sauce LLC.
...AND MORE TO COME!
2019 Entertainment
Saturday

12:00-2:00 Henna Artist

12:00-2:00 Fire Eater

Sunday

12:00-2:00 Henna Artist

12:00-2:00 Fire Eater

12:30-2:00 Dueling Pianos
General Admission

Each ticket gives you access to all of the awesome hot sauce, BBQ sauce, salsa, rubs, and snacks available throughout the festival. Feelin' brave? You can enter the Arena of Fire to test your mettle against our spiciest hot sauces!

Kids

This is a family-friendly event, so bring the whole crew! A Kids Ticket includes one-day entry to Weekend of Fire for Saturday or Sunday. Kids are welcome to try as many samples as they dare, but the Arena of Fire is restricted to those 18 years of age and older. Kids Tickets are for children age 5-12 years old. Children 4 years old and younger are free.
2019 WOFI Winners
2019 Best Hot Sauce

First Place
Dude Seriously - Dude Seriously Hot Sauce

Second Place
Uncle Snorey - TBA Taste Bud Annihilator

Third Place
Hank Sauce - Cilanktro

2019 Best Hot Specialty

First Place
Dude Seriously - Hot Honey

Second Place
Uncle Snorey - Jalapeno Relish

Third Place
Spicy Shark - Hot Honey

2019 Best Hot Specialty (Non-sauce)

First Place
Grand Dad's - Chili

Second Place
Spicy Shark - Hot Blueberry Syrup

Third Place
Slap Ya Mama - Cajun Seasoning

2019 Best Salsa

First Place
Uncle Snorey - Mango Tango

Second Place
Scotty O' Hotty - Beer Bacon

Third Place
Little Diablo - Seared Pineapple and Ginger

2019 Best BBQ Sauce

First Place
Uncle Stevie's - Sweet & Sassy Sasquatch

Second Place
Grand Dad's - Hot BBQ

Third Place
Papi Joe's - Tennessee Whiskey BBQ

2019 Special Mentions

Best Booth
Scotty O' Hotty

Vendor vs Vendor Blind Wing Sauce Contest
Dude Seriously

Rising Star
Dude Seriously
2018 WOFI Winners
2018 Best Hot Sauce

First Place
Dude Seriously - Dude Seriously Hot Sauce

Second Place
Angry Irishman - Chipotle Sauce

Third Place
Mikey V's - I love Taco Sauce So Much - Hot

2018 Best Hot Specialty

First Place
Elijah's Extreme - Reaper Sauce

Second Place
Scotty O'Hotty - Beer Bacon Salsa

Third Place
Mikey V's - Spicy Reaper Pickles

2018 Best Salsa

First Place
Mikey V's - Smoked Bacon Salsa

Second Place
Scotty O'Hotty - Ghost Salsa

Third Place
Uncle Snorey - Mango Tango Salsa

2018 Best BBQ Sauce

First Place
Grand Dad's - Original Homemade BBQ Sauce

Second Place
Papi Joe's Tennessee Whiskey BBQ Sauce

Third Place
Uncle Stevie's - Sweet N Sassy Sasquatch Sauce
2017 WOFI Winners
2017 Best Hot Sauce

First Place
Scotty O'Hotty Beer Bacon with Scorpion Hot Sauce

Second Place
Dashelito's Black Burn Out Hot Sauce

Third Place
Bravado Spice Pineapple and Habanero Hot Sauce

2017 Best BBQ Sauce

First Place
The Shed Southern Sweet BBQ

Second Place
Chili Rocks Fiery Pepper Whiskey BBQ Sauce

Third Place
Granddad's Original BBQ Sauce

2017 Best Salsa

First Place
Mikey V's Smoked Bacon

Second Place
Elijah's Extreme Ghost Pepper Salsa

Third Place
Scotty O' Hotty Ghost Pepper Salsa

2017 Best Hot Specialty

First Place
Elijah's Extreme Reaper Sauce

Second Place
Little Bird Fire Syrup

Third Place
Scotty O'Hotty Beer Bacon Chipotle
2016 WOFI Winners
2016 Best Hot Sauce

First Place
High River Cheeba Gold

Second Place
Elijah's Extreme Reaper Sauce

Third Place
Scotty O'Hotty Reaper De Muerte

2016 Best BBQ Sauce

First Place
Kentucky's Smokin Grill

Second Place
Granddad's Original

Third Place
Papi Joe's

2016 Best Salsa

First Place
Little Diablo Salsa - Seared Pineapple and Ginger

Second Place
Bob's Best Salsa - Black Bean and Corn

Third Place
Chili Rocks Ghostly Reaper Salsa

2016 Best Hot Specialty

First Place
Mad Sweet Heat Candied Jalapeno Relish

Second Place
Mad Sweet Heat Sliced Candied Jalapeno

Third Place
Scotty O'Hotty Beer Bacon Chipotle
2015 WOFI Winners
2015 Best Hot Sauce

First Place
CaJohn's Tiki Bar Hot Sauce

Second Place
Papi Joe's - Tennesee Hot Sauce

Third Place
Scotty O' Hotty Reaper de Muerte

2015 Best BBQ Sauce

First Place
Papi Joe's Tart & Tangy BBQ

Second Place
CaJohn's - Bourbon Chipotle BBQ

Third Place
Kentucky's Smokin' Grill - Spicy Hot

2015 Best Salsa

First Place
Deception Salsa Oink - Spicy Bacon

Second Place
CaJohn's - Pumpkin Salsa

Third Place
Bob's Best Salsa - Thick & Chunky Salsa

2015 Best Hot Specialty

First Place
Scotty O' Hotty - Beer Bacon Chipotle

Second Place
Frog Bones - Cajun Sauce Remoulade

Third Place
Papi Joe's - Sassy Bloody Mary Mix

2015 Best Booth

First Place
Chili Rocks
Frequently Asked Questions