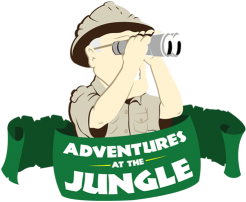 Gifts for the Holidays from Discoveries at the Jungle: England
Back to feed

As the nights get longer and the weather colder, it's the time of the year for buying our loved ones thoughtful gifts and staying cozy together at home. To help you out with your holiday shopping, we've assembled this holiday gift guide using items from our Discoveries at the Jungle: England selection! Many foods from England and the United Kingdom are hearty and comforting, making them perfect choices for winter. Whether you're searching for a gift for a picky eater, an adventurous foodie, or even an England native, there's something that will brighten everyone's day with Discoveries at the Jungle: England!
---
For the friend who just needs a no-fuss sweet treat.
As candy connoisseurs know, Quality Street is a Christmastime staple in England and beyond. Founded in 1890 in Halifax, Quality Street has been making their famous confections for over 100 years and the superb quality of their sweets has never been questioned. Because of their multi-generational popularity and long history, Quality Street candies are nostalgic for many and are especially popular during the holiday season. Anyone on your Christmas gift will be delighted by this 900g tin and will quickly pick their favorite Quality Street variety! Up the ante with other British candies like Cadbury CurlyWurly, Crunchi, or Flake bars or a box of Mr. Kipling Tarts!
Quality Street Candy Tin

Mr. Kipling Tarts

Maltesers

Cadbury CurlyWurly Bar

Cadbury Crunchie Candy Bar

Cadbury Flake Bar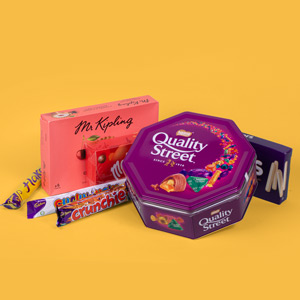 ---
For a friend who deserves a cozy morning.
This cozy gift makes a perfect present for any family or young couple! Scones are perfect for Christmas morning, or, really, any morning, and these mixes from Sticky Fingers make having English-style scones at home simple! Pair each mix with English standards like marmalade and lemon curd from Thursday Cottage, then package the entire ensemble in a nice mixing bowl with a pastry cutter from Gourmet Galeria! Voila! A beautiful gift that they can bake and enjoy together!
Sticky Fingers Scone Mixes

Thursday Cottage Blood Orange Marmalade

Thursday Cottage Lemon Curd
Visit Gourmet Galeria for:
A festive mixing bowl.

A useful pastry cutter.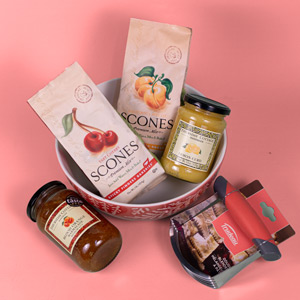 ---
For a tea-loving friend who is always stocking up on English breakfast!
It's no secret that England is one of the world's top tea consumers, with many Brits drinking 2, 3 or even 4 hot cups of tea every day. Impress your tea-loving friend with tea from one of England's finest and most ubiquitous brands, PG Tips, whose tea has remained a beloved staple in many English homes for nearly 90 years. Make this gift truly stand out by including a pack of English digestives (cookies!) and a fine ceramic teapot, teacup, and saucer from Gourmet Galeria!
PG Tips Original 240ct. Pyramid Tea Bag

McVitie's Digestives
Visit Gourmet Galeria for:
Matching teapot, teacup, and saucer.

To-go mug (not pictured).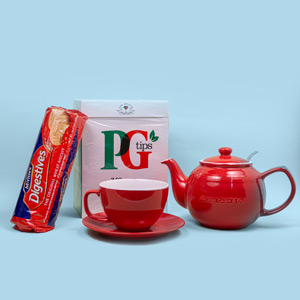 ---
For someone who is in need of a cozy night at home.
Seriously, who doesn't love hot chocolate? This thoughtful gift of drinking chocolate with sweet treats will please children and adults alike and encourage them to take a moment to relax. Grab a pair of pretty, cute, or funny mugs from Gourmet Galeria (many varieties available!) and an assortment of uniquely English treats to give them a fun night at home!
Guinness Hot Chocolate Tin

McVitie's Milk Chocolate Hobnobs Resealable Can

Jacob's Jaffa Cakes

Cadbury Drinking Chocolate (not pictured)
Visit Gourmet Galeria for:
Two unique mugs of your choice!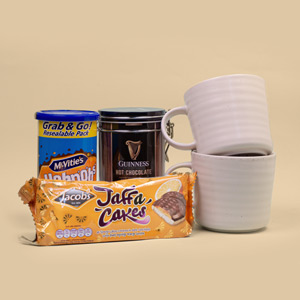 ---
For anyone who is obsessed with
The Great British Baking Show
.
If you're shopping for someone who loves to bake, an assortment of English baking items makes a wonderful gift! With Green's Yorkshire Pudding Mix, they can try their hand at making English pastries without having to start from scratch. Or, give them English baking staples like Lyle's Golden Syrup and Bird's Original Custard Powder so that they can craft a masterpiece that will impress Mary Berry herself! Visit Gourmet Galeria for a baking tin, mixing bowl, or more bakeware to complete the gift!
Green's Yorkshire Pudding Mix

Lyle's Golden Syrup (not pictured)

Bird's Original Custard Powder

Norfolk Manor Brandy Butter

Cross & Blackwell Mincemeat
Visit Gourmet Galeria for:
A festive mixing bowl.

A heart-shaped baking tin.