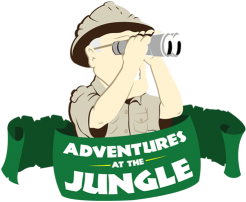 Holidays at the Jungle – Reindeer Candy Cane Craft Event!
Back to feed
​Nothing says Christmas like the sweet peppermint taste of a candy cane. Legend has it that the candy cane originated in Germany about 250 years ago. The original candy cane was an all white, straight, sugary stick. It wasn't until around 1900 that the red stripes and peppermint flavor were added.  Around 1920, Bob McCormack from Georgia started making them for friends and family. That was the beginning of Bob's Candies – which is still in business today.
We'll help you get in the Christmas spirit with this fun & easy Reindeer Candy Cane Craft. Here's what you'll need:
Standard Size Candy Cane
Two small googly eyes
One brown pipe cleaner  (antlers)
One small red pom pom  (nose)
Hot Glue gun
Directions:
Glue the red pom pom on the short tip of the candy cane.
Glue the googly eyes on above the nose.
Wrap the pipe cleaner around the top of the candy cane, then twist the ends to make the antlers.
Voila! You have a cute, easy decoration for your tree. They also make great treats to send in to school!
Be sure to stop by the Candy Department at both Jungle Jim's locations on Saturday, November 25th for your FREE Candy Cane Reindeer Kit!  It will have all the pieces you need to make one at home!
1 Free kit per person. First come, first serve. Limited to 250 kits.  ​