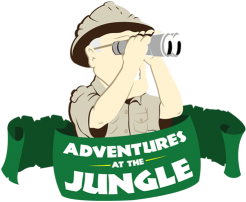 Holidays at the Jungle – Hot Sauce for the Holidays
Back to feed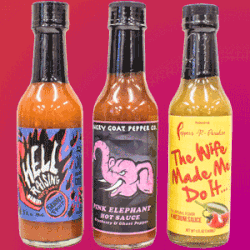 ​​It's easy to play it safe and hit repeat when it comes to holiday meals. So if you're looking to spice things up and give your holidays a little kick, we have some awesome sauces to check out.
These are great on their own, but added to traditional fare like pumpkin or apple pie, cranberry sauce, or even stuffing and on your main dish, each of them add something special to your meals.

​Hell Raising Hot Sauce – Forbidden Fruit – Red Jalapeno & Apple

We've talked about this one before, but there's a reason it remains one of our favorites – not just now but year 'round. Full of flavor and just the right amount of heat, apples and cinnamon work so well with the red jalapeno it's hard to believe no one was doing this before Hell Raising came along (to our knowledge, anyway). Sweet, flavorful, spicy… it's great on any number of baked pies, drizzled on stuffing and turkey, or added to mulled apple cider.
Peppers-R-Paradise – The Wife Made Me Do It… – Jalapeno, Serrano, Peaches, Mango, Strawberry, Pineapple, Papaya, and More

This one is a bit more on the tropical side, boasting a low/medium heat level but packed with more flavor than even all of the above ingredients can describe. Peppers-R-Paradise really took what could have been a kitchen sink approach and turned it into something balanced and delicious. Pour onto your ice cream, add to smoothies or mixed drinks, or give your turkey something unique…
Angry Goat Peppers Pink Elephant Hot Sauce – Cranberry & Ghost Pepper

Angry Goat is doing some unique things, and this Cranberry & Ghost Pepper hot sauce lays it all out on the table (and you should, too). Bright cranberries are accented by apple and pomegranate juice and fresh ginger, with the heat coming from a combination of Habanero, Jalapeno, and Bhut Jolokia peppers. Hear us out: if you're making fresh cranberry sauce, drop some of this into the pot while it's cooking and thank us later.
And don't forget about our Hot Sauce of the Month,
Born To Hula's Harvest Pumpkin hot sauce
… This stuff is incredible on ice cream, pumpkin pie, in chili or added to sweet potato casserole!
Cheers, everyone! Keep it flavorful, and keep it hot!
Don M.
Jungle Jim's "Pepperologist"