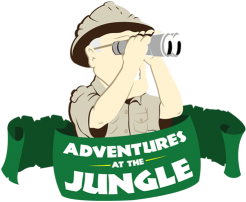 This month, we're taking a look at a new product that's on the Jungle Jim's shelves – Naturesta Hot Sauces. Dubbed "sauces for healthy and fun living," each of their sauces is all natural, with no more than 5 ingredients and a shelf life of up to 2 years! Grown from seed then brought to the bottle, Naturesta Hot Sauces take advantage of their peppers' high vitamin content and, of course, heat, to help make these not only flavorful, but good for you, as well.
For June, we're featuring two flavors from their extensive lineup – Green and Sriracha
Green – This is an easygoing hot sauce that packs a little more punch than you might think. Overwhelmingly "green" in flavor, this one has a saltiness and a sly heat to it that amplifies the flavor of any dish you use it on. Add it to eggs for a bit of an early morning jolt, or splash a few drops in the soup of your choice to give it an extra layer of flavor.
Sriracha – A little sweeter than the Green sauce, with an admittedly different flavor profile, their Sriracha comes close to the classic Sriracha taste you know and love, offering just enough of a variation to make it their own. We like this one in pho, or, hear us out, on hot dogs. Go ahead – try it!
Additionally, we're excited to offer two more varieties of Naturesta Hot Sauces, their Original and Buffalo flavors!
Original – Boasting only four ingredients – yep, you read that right… 4! – their Original Hot Sauce is as simple as it comes, but packs a surprising amount of heat and flavor into the bottle. You'll find this on the shelf with their Green, Sriracha and Buffalo, ready for just about anything you want to add some heat to!
Buffalo – A classic flavor, simply done (and very well executed). Close to the mostly orange color we usually associate with this style of hot sauce, it's a deeper shade thanks to its lack of food coloring. The flavor, however, is exactly what you want out of a top notch Buffalo style hot sauce. Your next batch of wings will thank you.
We hope to see you perusing the shelves underneath and around the fire trucks soon! The weather's warming up, and we think your food should be heating up, too. As always, we're here to help, so if you have any questions, we'd love to talk hot sauce with you!
Until next time… Keep it hot!
Don M.
Jungle Jim's Pepperologist