New Year, New You
January 25, 2020 | 11:00 AM - 4:00 PM
Time to put the ranch down, it's a New Year, New You!
We're teaming up with Mercy Health – Fairfield Hospital to help you be health-conscious in 2020! Free to the public, New Year, New You is your chance to see what's new in the world of health and wellness! World-class health industry professionals from Mercy Health – Fairfield Hospital will be on-site and ready to answer your questions! We'll also have industry experts available to teach you about new, exciting ways to make positive lifestyle changes for you and your family. Health screenings will be provided throughout the day and our Jungle Jim's partners will be sampling selections of their healthy foods to remind you that eating well can be a delicious decision!
Health Screenings
Health screenings are a great way to stay in tune with your overall health.
Mercy Health – Fairfield Hospital will be providing a wide range of screenings for your convenience. New Year, New You is the perfect time to start being proactive about personal health and wellness – regular screenings can significantly improve your chances of discovering possible risk factors. Health professionals from Mercy Health – Fairfield Hospital will be present to offer insight for preventative care and will offer easy steps you can take to make a big impact on your long-term wellness.
Mobile Mammography Van
The Jewish Hospital/Mercy Health's Mobile Mammography Van will be parked in front of The Oscar Event Center on the day of the festival. They'll be accepting walk-ups and patients with appointments. Call (513)686-3300 to schedule an appointment. Make sure to bring your insurance card with you.
The Food
New Year, New You will provide a great opportunity to check out some of the best new healthy food options available as our health and wellness experts provide samples of a wide variety of nutritious snacks and more. If you've been to the Jungle Jim's Natural Food Department, you know our selection and expertise is second to none, so at New Year, New You, you'll find surprisingly delicious options available, with the knowledge at hand to make the best choices you can! Different specialty dietary products will be offered including organic, gluten-free, superfoods and natural supplements. Our partners will also be providing a variety of cutting-edge products to help you lead a well-rounded, natural lifestyle. Want to see what Jungle Jim's Natural Foods are all about? There's no better time
Activities
12:30 PM Qigong
1:00 PM Line Dancing
2:00 PM Tennis
Directions, Parking & Lodging
The Oscar Event Center at Jungle Jim's International Market
5440 Dixie Highway
Fairfield, OH 45014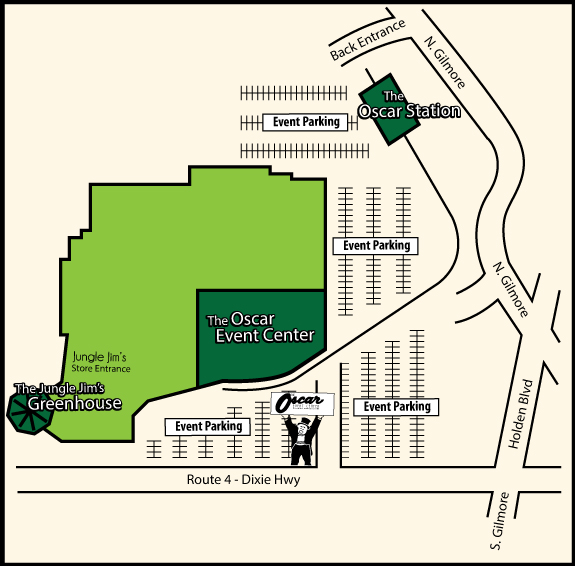 Need somewhere to stay?
Jungle Jim's has partnered with the following hotels and special offers may be available for customers who book their rooms with them. When making your reservations be sure to mention that you will be attending a Junglefest!
2020 Vendors
Platinum Sponsors

Plus CBD Oil


Queen City Hemp


Clean Remedies


Life Extensions


Gold Sponsors

New England Natural Bakers


Garden of Life


Silver Sponsors

Shiloh Farms


Vendors

Mercy Health
Omega Bun
Oscar Event Center and Oscar Station
80 Acres Farm
Jing Botanicals
Ancient Nutrition
Fair Ridge Farms
Plus CBD Oil
Chili Rocks and Big Fork Bacon Sausage
Clean Remedies
That's It Nutrition, Gratify Gluten and San J International
Big Axe Spice
Jungle Jims Kombucha
Superior Electrolytes
New England Bakers
Fit Vine Wine
Shiloh Farms
The Mustard Man
Straight Up Salsa
Garden of Life
Goodwolf Water Kefir
Energetically in Harmony
Queen City Hemp
Life Extension
Frequently Asked Questions