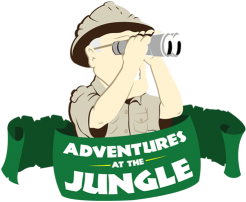 We have a lot to be excited about at Jungle Jim's Cheese Shop, but today we've decided to feature a product that may surprise you. Not everyone knows this, but Jungle Jim's Cheese Shop is home to an expansive selection of local and imported charcuterie! So, this week we've chosen to spotlight Zoe's Salamis, a fantastic range of unique, artisan-crafted salamis. Zoe's was created in 2007 when two salami-loving friends came together to create a company focused on environmental awareness and community, and now they make a wide variety of unique meat products that are sold nationwide. We love Zoe's because their products are delicious, made with all-natural ingredients, and pair wonderfully with our favorite cheeses.
My favorite thing about Zoe's is their willingness to experiment with unconventional flavors. They never shy away from eccentric combinations, and here at Jungle Jim's, we currently carry their Original, Jalapeno, Absinthe, Cacao, and Ghost Pepper varieties. The Absinthe is, by far, the craziest, and it happens to be my favorite. It's made with hatch chiles, and this ingredient adds a slow, burning flavor that compliments the strong, complex taste of the absinthe. Overall, this is a great salami to pair with your favorite cheese or to bring to a party or get-together. Our friends love this salami, and, in our experience, the Cacao and Absinthe flavors are instant conversation-starters.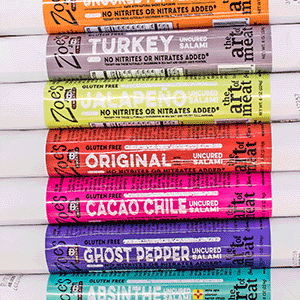 I'd also like to highlight the fact that Zoe's Salamis are nitrate- and nitrite-free, meaning that they do not contain controversial preservative chemicals. Zoe's is committed to the well-being of the environment and community, and their commitment to clean-eating means that you can enjoy Zoe's Salamis without having to wonder about the safety of the ingredients.
Stop by and see me at Jungle Jim's Eastgate for more recommendations! If you'd like to pick up a Zoe's Salami, you can find any of the previously listed flavors at our Eastgate and Fairfield locations for just $8.99. We are currently featuring this product, so you shouldn't have any trouble finding it, but please don't hesitate to ask for help or recommendations.
And, we want to know what you think! If you try this salami, Tweet at us, send us a message on Facebook or Instagram, tag us in a photo, or use the "Contact Us" page on our new website to shoot us an email. Let us know how you liked it, if you found a great cheese and cracker pairing, or show off a photo of your Insta-worthy spread! We're excited to hear from you!
Jacob H.
The Cheese Shop