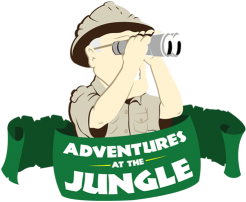 The Cooking School – August Cooking Classes, Awesome Summer Eats
Back to feed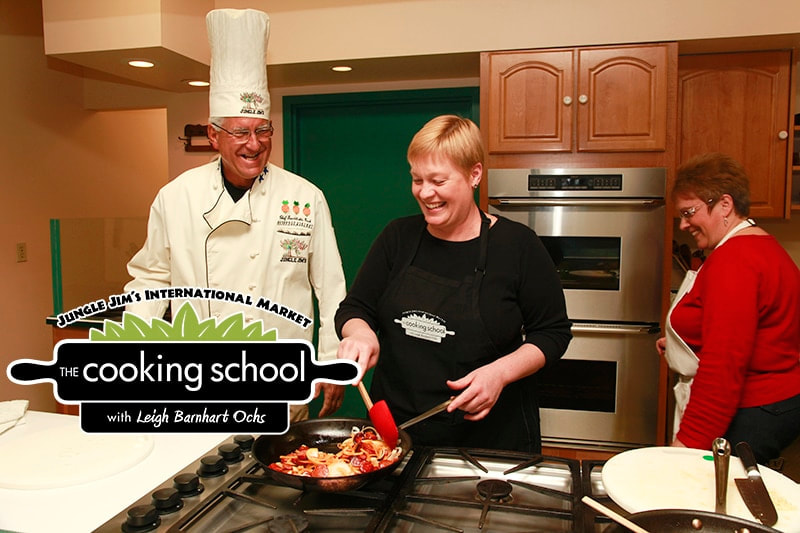 The spring and summer class schedule is always highly anticipated, because we are very enthusiastic about all the fresh produce available here at Jungle Jim's. We consciously plan our menus to cook seasonably, using the freshest, crispest and most locally available fruits and vegetables we can find.
Local and fresh ingredients are a key concern to our new chefs and to our talented and trusted returning chefs. They will help you steam, sauté, bake and grill your way through summer! Our chefs are passionate about food, and you will enjoy learning from their culinary and cultural experiences. You'll find all kinds of cuisines to experience in our kitchen. And because you want to do the cooking, we've added more hands-on classes you have been requesting.

The Tasting Room with Dave Schmerr has been a great draw for all the wine lovers out there. If you are a cheese lover, you might consider joining Dave and Brad Hacker, Jungle Jim's cheese expert, for a wine and cheese pairing. You'll get up close and personal with wine and cheese! It's a good way to introduce yourself to what The Tasting Room has to offer.
We hope you take some time to enjoy summer's bounty in our kitchen. It looks to be a flavorful season at the Cooking School at Jungle Jim's.
Take a look at our list of classes coming up in the second half of July – there's sure to be something to pique your interest and get you excited to step into the kitchen with us. Just click the name of the class you're interested in to purchase tickets!
The Tasting Room: New French Finds from Patrick Allen Selections
Saturday, August 19 | 1:00 – 3:00pm
With Dave Schmerr and Patrick Allen
Patrick Allen discovers so many hidden gems from Southern France that it will be hard to try them all. He finally came up with his top 10 list and we will taste them with cheese from France also.
Hands-On Class: A Very Fine Filet
Tuesday, August 22 | 6:00 – 8:30pm
With Ellen Mueller
Gather around our grill deck for an evening of great food with Ellen, our resident grill expert. She'll share her tips and techniques for using the grill to create a perfectly grilled filet and vegetables. Enjoy an evening learning new recipes and enjoying a great meal.
Filet Mignon with Mustard and Mushrooms
Gruyere Potato Gratin
Marinated Grilled Zucchini with Oregano and Dried-Tomato Vinaigrette
Almond Semolina Cake with Fresh Berries
Demonstration Class: A Middle Eastern Spice Market
Tuesday, August 29 | 6:00 – 8:30pm
With Renee Levy
Come delight your senses as we take a trip through a Middle Eastern spice market. Take in the colors and aromas that emanate from the wide variety of spices that abound in Middle Eastern cooking. We will explore a variety of these spices including sumac, za'atar, all-spice and cumin. Enjoy the bold flavors they provide in the recipes we will create.
Falafel served with Tahini Sauce and Pita Bread
Koftas – Grilled Ground Beef seasoned with Herbs and Spices
Hummus – a smooth chickpea dip
Fatoush Salad – Tomatoes, Cucumbers, Pita Chips with Olive Oil, Sumac and Lemon Dressing
Pickled Turnips and Beets
Baklava Bites – a shortcut version of the classic dessert
Hands-On Class: Italian Favorites
Thursday, August 31 | 6:00 – 8:30pm
With Ellen Mueller
Our salute to Italy gives our students a chance to make their own favorite Italian dishes – or dishes you wanted to make but just needed a little help. You'll learn to make to make homemade crepes, a skill that will add to your culinary repertoire. Each dish is packed with flavor and suited for preparing a weeknight meal that is simply delizioso!
Sausage and Mascarpone Stuffed Mushrooms
Simple Herbed Focaccia
Baked Manicotti Crepes with Arrabiata Sauce
Cinnamon Sugar Biscotti
For a full list of upcoming classes, be sure to check out our calendar of classes on the Cooking School website. We hope to see you soon!
Bon Appétit,
Leigh Barnhart Ochs
Cooking School Director