Scavenger Hunt
Teams are instructed to adventure through the store to find items, facts, and attractions within a time limit.
Veggie Racing
Teams are given a basket of veggies along with a few tools to create a veggie racing car. Teams must use every vegetable given to them while making sure that their car adheres to specified weight requirements. Cars are raced in heats on a track designed specifically for veggie racing.
Family Feud – Jungle Style
Teams will be paired against each other to find the most popular answers to survey questions about Jungle Jim's. Pop culture, food facts and maybe even a few about your company.
Jungle Jeopardy
Designed for groups of 20 or less, our Jungle Jeopardy trivia questions quiz participants on Jungle Jim's, pop culture, food facts, and can be designed to incorporate your company and/or the theme of your meeting.
The Corporate packages include:
Ample free parking
Updated high-speed wifi
Handheld and lavalier microphones
Screens
Smartboard
Easels & flip charts
Foam core boards
iPod with house speakers
Use of Jungletron for pictures and messages
All glassware and china
Votives and tea lights
Black, white, or ivory lap-length linens
Luxurious lavatories
House searchlights
Outdoor terrace
TV/DVD or LCD/projector
We offer a variety of cooking activities including a no-bake challenge, a demo class from our Executive Chef, and an interactive cooking class.
We have many team-building activities to choose from, that can be customized to meet your company's needs.
Floorplan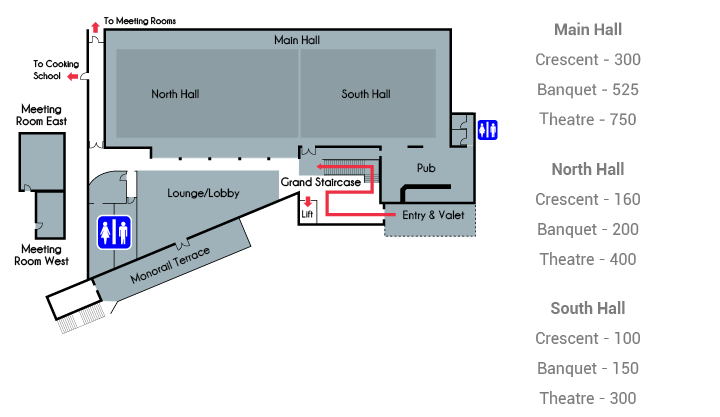 Food and Menus
As a part of Jungle Jim's International Market, The Oscar Event Center has access to an unparalleled selection of food options. Headed by our Executive Chef, our full on-site catering team can procure, prepare, and even deliver the freshest foods possible. Plus, we can customize any menu to match your vision!
Contact an Event Specialist today at 513.674.6055 or Oscareventcenter@junglejims.com
Contact an Event Specialist today at 513.674.6055 or Oscareventcenter@junglejims.com
Located at Jungle Jim's International Market in Fairfield, Ohio!
The entrance for The Oscar Event Center is located between Hallmark and Starbucks.
The Oscar Event Center at Jungle Jim's International Market
5440 Dixie Highway
Fairfield, OH 45014