The Main Hall
A luxurious room with 40-foot tall exposed ceilings; wood, brick and stone feature walls; and a distinct modern, rustic and chic industrial atmosphere. The space offers tri-toned carpet and neutral colored walls that blend with any decor. The Main Hall can be separated into a South and North Hall, providing more intimate spaces for receptions and ceremonies.
The Lounge
Featuring exposed beams, beautiful concrete floors, neutral walls, and vintage and modern decor with elegant lighting, The Lounge is conducive to wedding ceremonies with less than 150 guests or can be used as a space for cocktails and appetizers.
The Outdoor Terrace
An outdoor space with stone floors, metal wall-coverings, and an amazing hand-painted wall mural. The Terrace is available year-round and features tented walls, outdoor heating, and fans that can be used for guest comfort.
The Pub
An extraordinary space with a hand-crafted 30-foot bar and timber-covered walls. Authentic wine barrels complete the decor.
The Oscar Event Center wedding packages include:
Bridal suite
Dinnerware
Linens
Cake cutting service
Dance floor
Baby grand piano
Sound system
Projection system
Riser for the ceremony
Set up and tear down
Catering is provided by our Executive Chef, James Trent, and his culinary dream team. As a part of Jungle Jim's International Market, we have a unique advantage that allows us to offer delicious and diverse menu creations. We offer a large variety of menus with everything from appetizers, buffet and plated dinners, interactive stations, and a full selection of bar options. We offer custom menus for your special day and can include Jungle Jim's-inspired international dishes.
The basic ceremony fee includes the help of an on-site coordinator. There is also staff available for the day of the event to help ensure a smooth experience.
Extra Perks
Couples seeking a dramatic entrance at the Oscar Event Center can opt for house searchlights or use our Jungletron (our version of a Jumbotron) to display wedding photos or messages.
Floorplan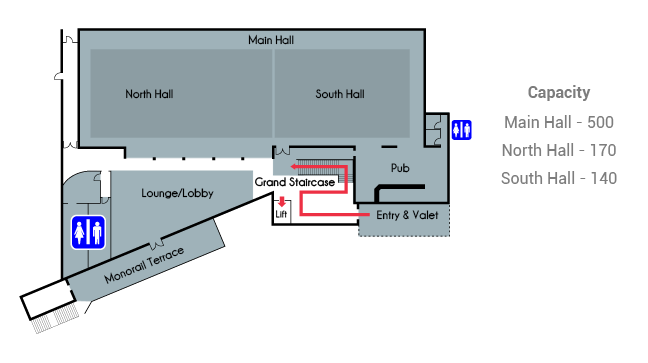 Take a Virtual Tour of The Oscar Event Center
Food and Menus
As a part of Jungle Jim's International Market, The Oscar Event Center has access to an unparalleled selection of food options. Headed by our Executive Chef, our full on-site catering team can procure and prepare the freshest foods possible and customize any menu to match your vision!
Contact an Event Specialist today at 513.674.6055 or Oscareventcenter@junglejims.com
Let's Start Planning Your Wedding!
Get the most accurate pricing and availability info by sharing some of your wedding details with us.
See What People Are Saying
"This place was perfect!! They handled everything with finesse and expertise! From simple suggestions to making hard calls that took the pressure off of me on the day of. They were prepared and ready for any possible outcomes. And the food…Oh my goodness the food was amazing. It was everything my husband and I could have asked for."
– Jessica T.
"My husband and I had our reception here on September 16th. Katie was an absolute dream to work with for the past year! She never hesitated to help us or answer any kind of questions we had about anything at all. The staff on Saturday was absolutely amazing. They were refilling our guests drinks without them even having to ask! They were all SO friendly, so helpful and awesome overall. You could tell they actually enjoyed their jobs and really wanted us all to have a good time. We received so many compliments about the food, the staff and the venue in general. Everything went very smoothly and it was like a little girls dream come true. I couldn't recommend this venue more!!!!! You will not be disappointed."
– Haley R.
"There are not enough stars to say how great it was working with Katie and the entire staff at the Oscar Event Center. I fell in love with the venue from day one and Katie was absolutely wonderful to work with and helped me every step of the way throughout the planning process. We held our rehearsal dinner there, our ceremony and of course the reception and everything was flawless! I can't tell you how many of our guests raved about the food, the venue and the professionalism and courtesy of the staff. Many people said it was the best wedding they ever attended! Words can honestly not express how thankful I am for the help in making our day absolutely perfect!"
– Tracy C.
"We had both our ceremony and reception at the Oscar Event Center on May 6th, 2017, and I cannot praise them highly enough. It was very reasonably priced, yet still classy and elegant. The Staff was impeccable – they ensured that every detail was on point. I am still getting comments on how great the food was and how beautiful the venue was! Katie, the event coordinator, is an absolute GEM. She was efficient and organized enough that it took so much stress off of me. Anything I needed, she was on top of, with no questions or hesitation. I would recommend the Oscar Event Center to absolutely anyone. It made our big day even more perfect!"
– Christine C.
"Dianne and staff went above and beyond to make our big day perfect! Dianne gave us suggestions that we didn't think about which helped us out a lot! She was very welcoming to the bridal party! We had last minute changes with seating and entrance order that she cooperated with very well. The food was phenomenal! The ambiance of the center was absolutely perfect. We couldn't have found a better place to host our wedding and reception!"
– Saniya S.
"The best day of my life! Katie was awesome to work with! The food was amazing and the service was great!!"
– Victoria W.
Contact an Event Specialist today at 513.674.6055 or Oscareventcenter@junglejims.com
Located at Jungle Jim's International Market in Fairfield, Ohio!
The entrance for The Oscar Event Center is located between Hallmark and Starbucks.
The Oscar Event Center at Jungle Jim's International Market
5440 Dixie Highway
Fairfield, OH 45014