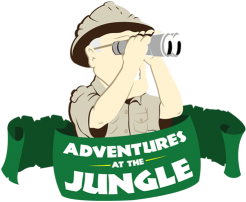 Volcanic Peppers Brings The Heat… And Then Some!
Back to feed
If you've shopped the aisles under and around the fire truck at either Jungle Jim's location, you know that there's a lot of flavor, and even more heat, packed onto those shelves. Volcanic Peppers is no exception.
​
We're excited to have a few new items from these Head Honchos of Heat in the form of 2 flavorful and, of course, hot salt and pepper grinders and a new chocolate habanero powder. Ready to light things up and bring a little fire to the table? Let's go!
Red Reaper Salt Grinder

– Featuring the ever feisty and always scorching Carolina Reaper, this grinder is filled with large chunks of salt and dried pepper, making it perfect for adding the finishing touch to meats and fish, corn on the cob or anything else to which you want to add some flavor – and some serious heat.
Scotch Bonnet Peppercorn Grinder

– A few notches down the Scoville scale, the Scotch Bonnet is still a formidably and particularly prickly pepper. There's a lot of flavor to be mined from Scotch Bonnets, though, so adding them to something as mundane as peppercorns lets the peppercorns do their thing while letting the Scotch Bonnets remain the star of the show.
Volcano Dust – Chocolate Habanero Hot Pepper Powder

– Boasting a sweet fruitiness, this deceptively named pepper is either more fun, or significantly less fun, than actual spicy chocolate. Nearly double the heat level of the typical Habanero, the pepper this powder is made from has an innate smoky quality that makes it perfect for sauces, rubs and other seasonings. On it's own, it's a powerhouse. Combined with other flavor elements, it might be your new favorite.
You can find these wild, intense and exciting offerings from Volcanic Peppers at both locations – just ask one of our resident hot sauce gurus to help you out!
​