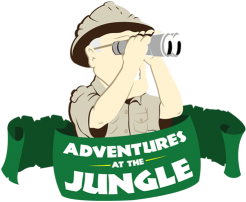 Weekend of Fire 2017 – A Taste of What's to Come!
Back to feed
​If there's one thing about Jungle Jim's, it's that we're always on the lookout for the next big thing. We're entering the 11th year of our Weekend of Fire festival, a 2 day extravaganza of heat and flavor, so we're changing things up on the floor by expanding the size of the festival. With that, we're able to bring back partners from years past, as well as welcome some new faces to the party.
We're going to look at some of those now… Two companies doing some fun, flavorful, and exciting things in the world of spicy foodstuff are making return appearances, and a new Kentucky-made hot sauce is making their debut. Let's go!
| | |
| --- | --- |
| | ​Little Bird Kitchen – Curious confections, indeed! Weekend of Fire isn't just hot sauce – really, it's anything that's hot, flavorful, and interesting… and it turns out Little Bird Kitchen nails all three with style. Simple syrup with jalapeno, spicy chocolate creations, and more, this innovative husband/wife duo is crafting award-winning concoctions that will satisfy your sweet tooth and make you sweat at the same time. |
| | |
| --- | --- |
| | Angry Irishman Hot Sauce (and more) – Marking their third appearance at Weekend of Fire, Angry Irishman returns with their signature hot sauces (and more). Boasting loads of heat with flavor to match, look for their bright orange and green display and try a sample or two. Test your mettle with their Why??? Sauce, a blistering blend of Bhut Jolokia, Trinidad Scorpion, and Carolina Reaper. One spoonful and we think the name of the sauce will make a whole lot of sense. And don't worry… they're not that angry, so don't be shy! |
| | |
| --- | --- |
| | ​Back Porch Hot Sauce – New to the Jungle, and new to Weekend of Fire, this Winchester, Kentucky hot sauce maker is one to watch (and, of course, taste). Mild, Medium, and Extreme Heat versions of their "hot sauce with taste" are on the shelves now, and we expect them to make quite an impression on the WOF crowd. The addition of Thai chili peppers to a more traditional habanero and jalapeno base gives them a unique place from which to offer their wares. Be sure to check them out! |
Don't forget:  We have a lot of new things in the works – the show really will be bigger and better than ever – so don't miss out on the hottest weekend of the year!
Keep it flavorful, and keep it hot.
Don M.
Jungle Jim's "Pepperologist"