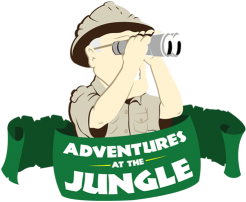 This month, my Pepperologist Picks are the condiments from Yellowbird, a Texas-based spicy condiment kitchen serving up some of the finest, cleanest hot sauces available on the market! I love Yellowbird because all of their condiments are free of preservatives, made with ethically-sourced ingredients, and are just plain good!
Yellowbird got its start when co-founders George Milton and Erin Link simply became fed up with other spicy condiments on the market. They had just started living a healthier lifestyle and were trying to eat as cleanly as possible. However, they found themselves complaining every time they left the grocery store! It seemed that every hot sauce or condiment they checked contained controversial chemicals or unnecessary preservatives. In many cases, both were present. Erin and George vowed that if they ever started a food brand, their products would never contain harmful chemicals.
Those post-grocery shopping conversations planted a seed, and Yellowbird was founded. The company was named Yellowbird to contrast typical hot sauce imagery, like flaming heads, skeletons, or frightening creatures. Yellowbird is totally different from those hot sauce companies, so Erin and George wanted the product's packaging, branding, and imagery to reflect that difference. Plus, the name comes with a neat story! During the process of starting Yellowbird, George came across an article that told the story of a small species of yellow birds that are indigenous to Thailand. These birds actually eat bird peppers, a small, red chili pepper, in order to protect themselves from predators. According to legend, birds that eat these peppers will actually taste spicy to predators, which then discourages predators from coming back for more! Yellowbird's founders were inspired by the resilience of these little yellow birds, and decided to adopt the name for themselves.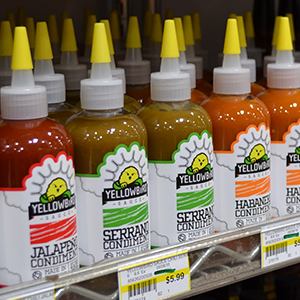 Soon, Erin and George were experimenting with peppers, carrots, onions, and all sorts of fresh fruits and vegetables. They started small, distributing to local businesses and working late nights in commissary kitchens to create their condiments, but customers loved their sauces and demand grew. Before they knew it, Erin and George had their own commercial kitchen, but even that wasn't enough. Soon enough, they were breaking ground on a factory.
Now, Yellowbird is sold across the country. They've been featured in The Huffington Post, Epicurious, Southern Living, and even WebMD, and their popularity continues to grow. Once you try any one of their condiments, you'll understand why. As I mentioned earlier, all Yellowbird condiments are made without preservatives. As an example, here are the ingredients in the Blue Agave Sriracha: ripe red jalapenos, organic blue agave nectar, organic distilled vinegar, garlic, salt, tangerine juice concentrate, lime juice concentrate, and organic guar gum. I don't know about you, but I can pronounce every one of those names! And it's not just for show; the quality of the ingredients truly shines through when you taste the sauce. My personal favorite is actually the Serrano, with the Blue Agave Sriracha coming in at a very close second. The Serrano is great because it's very spicy, but it has a fantastic, complex flavor. A lot of spicy hot sauces don't have a very good flavor, but that's not the case for this one. The Yellowbird Serrano is made with cucumbers, carrots, and serrano peppers, and you really taste each one of these ingredients. The cucumber shines through almost immediately, giving this sauce a bright, fresh taste, but it doesn't downplay the serrano. The pepper is full of flavor, and is great to put on eggs, mix into mayonnaise, or drizzle over hummus.
We currently have Yellowbird's Jalapeño, Serrano, Habanero, and Blue Age Sriracha Condiments for sale at both Jungle Jim's locations! You'll find them in the alphabetized hot sauce aisle under "Y" for Yellowbird. If you do stop by our Fairfield store, find me and say hello! I'm always hanging out near the firetruck, and I'd love to offer you a sample or talk to you about hot sauce! If you do take my advice and take home a bottle of Yellowbird, let us know on social media! Post a photo and tag us on Facebook, Twitter, or Instagram so we can see what you've been up to. We look forward to hearing from you!