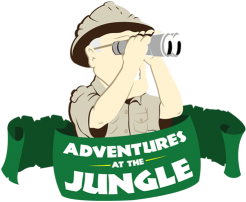 Oktoberfest Desserts You Won't Be Able to Resist
Back to feed
Posted: 9/18/2018
Categories: Bakery

The Jungle Jim's Bakery Offers German pastries year-round.
As a kid, my favorite fall tradition was spending the day at Oktoberfest with my parents and two siblings. I didn't go for the food, certainly not the beer (though my interest in Oktoberfest beer has changed over the years!), and I definitely didn't show up for the music. Do you know any eight year-olds that find German Oom Pah music especially exciting? Yeah, me neither. No, I was there for the desserts. Every year, we would walk the festival, enjoy a brat, and save the dessert tent for the very end of our day so that we could take our treats home with us. My mother loved the apple strudel, my father always had to have a slice of Black Forest Cake, but my sisters and I had our eyes on the greatest prize of them all: the cream puff. We savored that delicate pastry, and, more often than not, fought viciously over who received the more generous portion. Of course, each one of us thought the others had more, but that's besides the point all these years later.
Nowadays, we don't always have time to head downtown every year. Parking can be a hassle, the Cincinnati humidity remains undiminished even in September, and the crowds can be horrendous. Luckily, we live close to the famed Jungle Jim's International Market, which has an in-house bakery that supplies German pastries, including cream puffs, all year round! Here are my three favorite Jungle Jim's Oktoberfest desserts, ranked from pretty good to absolute best.
---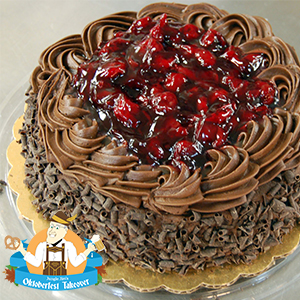 1. Black Forest Cake
If cake is your preferred dessert of choice, then you absolutely must try the Jungle Jim's Black Forest Cake. This is a chocolate cake topped with whipped cream, filled with decadent red cherries, and flavored with Kirshwasser, a brandy made by distilling cherries. The cake is named for the Kirschwasser liquor that is produced in the Black Forest region in Germany, and the recipe for Black Forest cake dates back to 1915. Fun fact: the design of the cake is rumored to have been inspired by traditional Black Forest garb. In the Black Forest area, women commonly wore black hats topped by red pom-poms, which the cherries on top of the cake are said to mimic!
---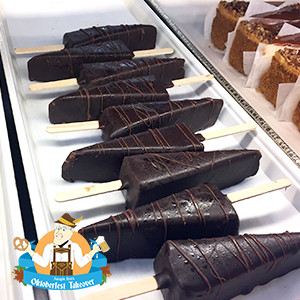 2. Chocolate-Covered Cheesecake on a Stick
Oh, cheesecake. What did we ever do to deserve you? If you like your desserts creamy, indulgent, and decadent, then you will love the Jungle Jim's Bakery's take on Chocolate-Covered Cheesecake on a stick. They take rich slices of cheesecake, douse them in fine chocolate, then freeze and serve cold. It's very smooth, perfectly flavored, and the chocolate melds with the cheesecake to create a one-of-a-kind experience. This is without a doubt one of Jungle Jim's best desserts, and one that I can never resist! 
---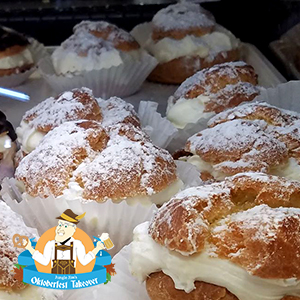 3. Cream Puff
This is it, my friends. The gold standard of German pastry-making. If a bakery can master the exalted cream puff, then, to me, they have mastered the art of pastries. And the Jungle Jim's Bakery hits it out of the park. The cream puff is tender, soft, fluffy, and basically perfect in every way. The cream filling is light, fluffy, but still indulgently creamy. All in all, a 10/10.
---
If you're like me and you indulge in a cream puff every year during the Oktoberfest season, stop by the Jungle Jim's bakery and get some to-go! You won't have to fight the crowds, endure the heat, or pay for parking, and you still have access to a full selection of German desserts! Plus, with Jungle Jim's Oktoberfest Takeover, there's plenty to do in the store. Stop by, enjoy some fun activities, and leave with dessert. It's the perfect way to spend a weekend afternoon!