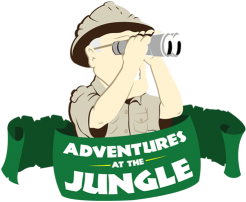 Jungle Jim's Garden Center: Interesting Finds and Classic Favorites
Back to feed

We're pleased to announce that our Jungle Jim's Garden Center is fully stocked and open for the spring and summer seasons! This is the premier shopping destination for all things plant-related, and we're ready to help you transform your backyard from a winter wasteland to a gorgeous, relaxing spring oasis.
Our Garden Center is kind of a big deal. Standing at 50 feet tall, the greenhouse is spacious enough to house all of our plants and for our collection of pottery, fertilizers, and garden decorations. We also feature a mascot! Our Garden Center is topped by an iconic five-foot-tall gorilla statue that functions both as a weathervane and as quirky decoration. Welcome to the Jungle!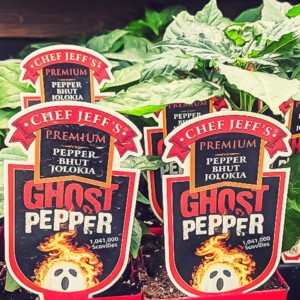 We have plenty of classic favorites this year, and we've become the choice retailer of tomato and pepper plants. These are reliable, easy plants that many gardeners successfully cultivate year after year. We have a diverse range of tomatoes and peppers, and we encourage you to try something new! Why not plant some Ghost Peppers?
This year, we're also proud of our broad selection of herbs. We've partnered with Chef Jeff's, a trusted gardener, to provide over 40 varieties of herbs. Chef Jeff's is a great company that was founded by a New York-trained chef. Because of this, the herbs are grown with a focus on food safety. Chef Jeff's never buys or sells genetically modified plants and they don't use neonicotinoids (harmful insecticides) or any other pesticides that are known to harm pollinators. These herbs are clean, healthy, and easy to care for!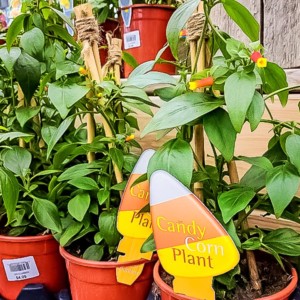 We have your traditional favorites, but we also have new and interesting finds! One example is the candy corn plant, or the manettia vine. This is a climbing plant with a small, vibrant, orange-colored flowers. That's why it's also called the firecracker vine! This plant is easy to care for and requires a simple trellis. Plus, for our local bird-lovers, this plant is known to attract hummingbirds. Pair this plant with one of the beautiful hummingbird feeders from our pet section, and you're sure to have these delightful birds buzzing through your backyard in no time.
If this isn't what you're looking for, don't worry. We have annuals, perennials, vegetables, fruits, flowering vines, houseplants, succulents, and much more. We even have banana trees and mini pineapple plants! Stop in today, chat with us, show us your plans, and let us help you craft your perfect backyard sanctuary. And, don't forget to let us know how it all works out! We'd love to see the results of your hard work, so Tweet at us, send us a picture on Facebook or Instagram, or use the Contact Us section on our new website to get in touch. We want to see how your garden grows!
Your Friendly Gardeners at the Jungle Jim's Garden Center