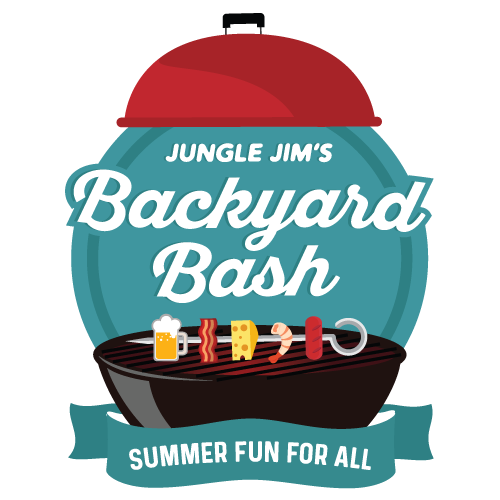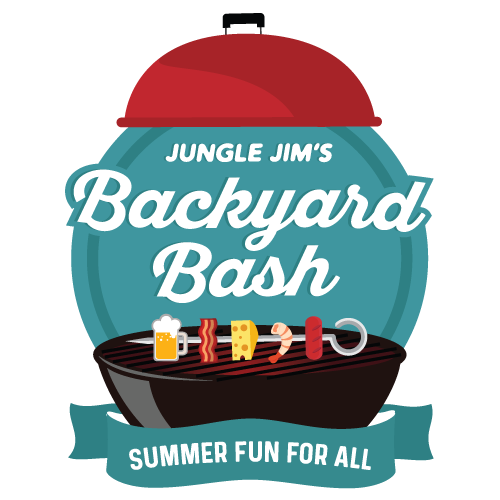 Backyard Bash
August 10 | Details for this year's celebration coming soon!
Join us at our largest Summer extravaganza!
Summer is in full swing, and it's time to relax, soak up the sun, and, more importantly, eat delicious food! With over 40 booths serving Bacon, Cheese, Barbecue, Seafood and much, much more, your options are vast, with over 200 products to sample! Sip on a refreshing sample from our Craft Beer Garden or purchase a mouthwatering summer cocktail at one of The Oscar Event Center bars. This will be our largest summer extravaganza, so why not start a new summer tradition with family and friends? Plus, if you find something you love, every product sampled in the show can be purchased inside Jungle Jim's! So the festival really goes on all year long!
The Festival
Four Junglefests in oneAre you ready for the largest summer celebration this season? Jungle Jim's Backyard Bash is a brand new take on your favorite Junglefests. This year we are combining our love for Beer, BBQ, Bacon, Cheese, Seafood, and more into one giant summer extravaganza! Join us for a summer getaway right in our backyard.
Calling all Beer FanaticsAs if unlimited food samples weren't enough, you can purchase a VIP ticket to unlock access to our Craft Beer Garden! All VIPs receive a commemorative pint glass, five sample tickets, and five pint tickets. Redeem these tickets to enjoy five pint-sized beers and sample five more! Additional drink tickets will be available for those who just can't get enough.
Unlimited food samplesBy combining four fests into one, we will be packing the day full of more products to sample than any Junglefest before! To top it all off, the show will be held in both The Oscar Event Center and the Greenhouse. Sample as much as you would like from over 40 vendors with more than 200 products!
Packed with family funSummer is the time to recharge, indulge, and unwind. However, there's no need to do it alone. We've planned some exciting surprises around every corner for all ages, after all it is Jungle Jim's! Enjoy live music or try your odds at our raffle booth. Regardless, this will be a summer to remember!
Directions, Parking & Lodging
The Oscar Event Center at Jungle Jim's International Market
5440 Dixie Highway
Fairfield, OH 45014
Parking
Need somewhere to stay?
Jungle Jim's has partnered with the following hotels and special offers may be available for customers who book their rooms with them. When making your reservations be sure to mention that you will be attending a Junglefest!
Frequently Asked Questions