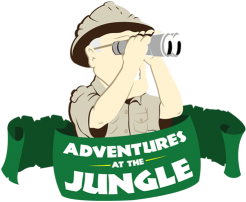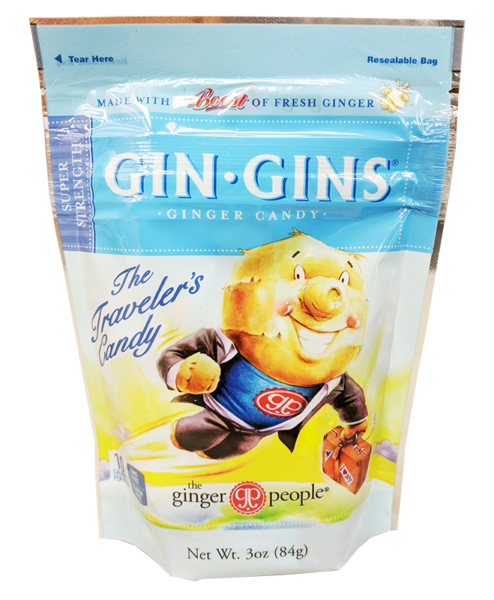 The Ginger People Gin-Gins Ginger Candy
These super-strength ginger candies are perfect for ginger lovers, who need their ginger ready and easily accessible at all times! Each lozenge is individually-wrapped, made without preservatives or artificial colors, and is vegan and gluten-free! They are perfect for people who are prone to travel sickness, and the individual wrappers make it easy to toss a few in a purse or an overnight bag. But, beware; these candies are not for the ginger novice. Each candy is 30% fresh ginger, and definitely, have a kick!
Did you know? It is a long-held belief that spices have a warming effect. That's why gingerbread is popular in the winter!
---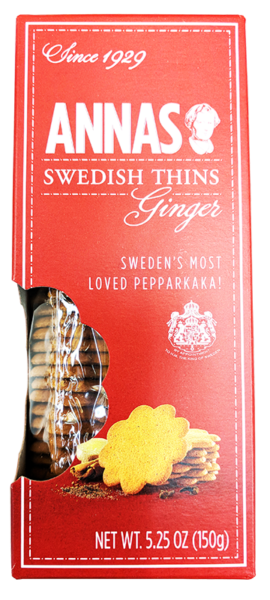 Anna's Swedish Thins
The eponymous founder of Anna's Swedish Thins, Anna Karlsson, began making ginger thins, or pepparkakor, in her backstreet bakery in 1929.  The Anna's company sells their expertly crafted cookies worldwide in many different varieties, though ginger is certainly one of their most popular flavors. These cookies are well-loved because they are thin, delicately crisp, and made with just the right balance of ginger, cloves, and cinnamon. They're also extremely versatile! They can be eaten on their own, crushed into ice creams or pudding, or dipped into chocolates. All in all, these cookies are delicious and so thin that you can indulge guilt-free!
Did you know? Queen Elizabeth I is credited with inventing the gingerbread man. Allegedly, she had the cookies baked in the shapes of visiting dignitaries and served them at a banquet!
---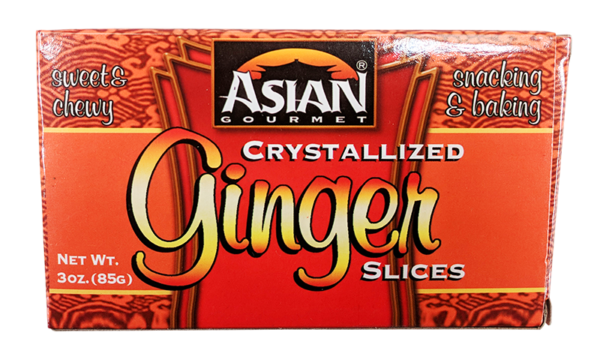 Asian Gourmet Crystallized Ginger Slices
Crystallized ginger is a great way to incorporate ginger into your diet as a snack or small treat. This product allows you to reap some of the health benefits of ginger without requiring too much work. Many people carry crystallized ginger with them to help with nausea, car sickness, or just an upset stomach. The spiciness of ginger can also help to reduce stress, clear sinuses, and perk you up on a slow day. Just be careful not to indulge too much. But, don't be fooled! Though crystallized ginger delivers some of the health benefits of raw ginger, it also contains lots of sugar, so don't forget to treat this as a candy!
Did you know? Crystallized ginger is made by cooking ginger in sugar until it crystallizes.
---

Buchanan's Scottish Spicy Ginger Fudge
This spicy fudge is guaranteed to become your new favorite, imbued with spicy ginger flavor. The creamy treat is produced by Buchanan's, a Scottish company known for their original recipes. This fudge is perfect for anyone who loves unconventional desserts or for someone looking to try something a little out of the ordinary. It also pairs well with shortbread cookies and ice cream for an extra special treat!
Did you know? Ginger desserts can be traced back to Ancient Greece. Greek honey cakes often used whatever spices were on hand, which was sometimes ginger.
---
Check out our featured ginger posts this month!
Discoveries at the Jungle: Ginger
Discoveries at the Jungle: Cooking with Ginger, The Real Deal
Discoveries at the Jungle: Cooking with Ginger, Flavored Marinades and Sauces
Discoveries at the Jungle: Ginger Snacks
Discoveries at the Jungle: Ginger Beverages