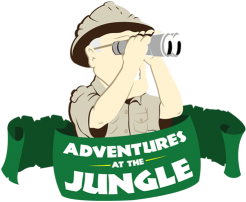 Discoveries at the Jungle: Lemon Extract, Oil, and Peel
Back to feed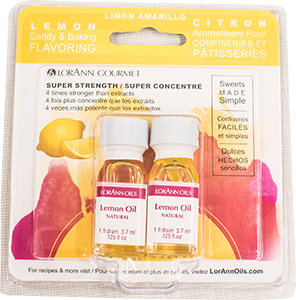 LorAnn Oils Lemon Oil
This food-grade lemon oil is four times stronger than most lemon extracts and can add a serious kick of lemon to your cooking and baking. In fact, because it's so highly concentrated, this oil is typically used for candy-making and confectionary purposes. You can also use lemon oil in cakes, cookies, frosting, or ice creams, but use sparingly because it is very strong.
---

Watkins Pure Lemon Extract
Most people keep their kitchens stocked with vanilla or almond extracts, which are both commonly used for baking. However, not everybody uses lemon extract as frequently. Let me tell you: if you're not using lemon oil in your cooking or baking, you're not living life. Lemon extract is easy to use and adds a refreshing citrus kick to your baked goods. Simply use in place of vanilla or almond extracts. You can also make homemade lemon icing by combining cream, milk, or water with powdered sugar and a teaspoon of lemon extract. Our only caveat with lemon extract is to be careful: a little goes a long way! And unlike vanilla extract (which goes with practically everything), lemon may clash with some flavors, so be careful!
---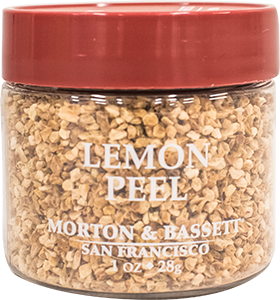 Morton & Bassett Lemon Peel
Lemon peel is made by grating the thin, outer peel of a ripe lemon. The zest is then finely chopped and dried into a spice that can be stored long-term and can be used in cooking and baking. You can add lemon peel to rice and quinoa during the boiling process to infuse the grains with citrus flavor. Lemon peel also makes a great addition to loose leaf teas. You can also sprinkle some into stir-fries, over roasted vegetables, or add a pinch to soups or stews for a slight citrus flavor.
---
Check out all of our Discoveries at the Jungle: Lemon posts this month!
Discoveries at the Jungle: Lemon
Discoveries at the Jungle: Lemon Extract, Oil, and Peel
Discoveries at the Jungle: Lemon Candies
Discoveries at the Jungle: Cooking with Lemon
Discoveries at the Jungle: Tea Time