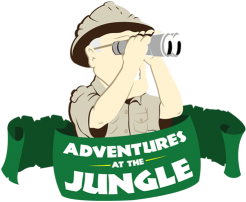 Carr's Ginger Lemon Cremes
English tea time is a tradition that originated with noblewomen in the mid-1800s. As the story goes, the Duchess of Bedford would become hungry at around four o'clock in the afternoon every day. However, her household served dinner late, around eight o'clock, because it was fashionable to have a late dinner. Instead of starving herself for another four hours, the duchess got into the habit of having a light afternoon snack of buttered bread and tea every afternoon. Soon, more and more noblewomen began to observe this tea time tradition and afternoon tea became an event. Women would host tea time parties, dress themselves in specific outfits, and adhere to strict rules of etiquette. This tradition came to be known as low tea, because the participants sat in low-lying chairs. Later, working class men and women adopted this tradition, but because the were working at four o'clock, they had to enjoy tea time much later. By the time they finally arrived home, they were hungry enough to eat heartier fare and did so at their dining tables. This tea time came to be known as high tea, because they sat high-up at tables. Nowadays, tea time is not nearly as formal, and you can practice tea time by simply making a hot mug of black tea and enjoying a small snack. These Ginger Lemon Cremes are the perfect tea time treat and pair well with black tea. Honestly, they're so good that you'll want to eat them all day, but we recommend conserving them and treating them as a special afternoon treat to help you get through the end of the day.
---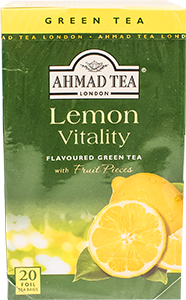 Ahmad Tea London Lemon Vitality Green Tea
Tea time is traditionally enjoyed with black tea, but we won't judge if you decide to substitute for this tasty lemon green tea. Green tea has a lighter, mellower taste than black tea, so it's not necessary to add cream or sugar. Green tea is best on it's own or with a drizzle of honey, so it tends to be slightly healthier than black tea. Additionally, green tea has many recognized health benefits. Some studies have shown that green tea consumption can help prevent certain diseases, like Alzheimer's, and can improve blood flow and lower cholesterol. Of course, no food is a miracle food. You have to take care of yourself in other ways, too, like exercising and eating well. But little things still make a difference, and making green tea part of your daily ritual certainly won't hurt!
---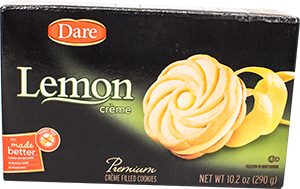 Dare Lemon Creme Cookies
These lemon creme cookies are decadent, cream-filled sandwich cookies with a bright lemon flavor. They are perfect for dunking and indulging! We recommend enjoying them with black tea or with a tall glass of milk. Dunk and enjoy!
---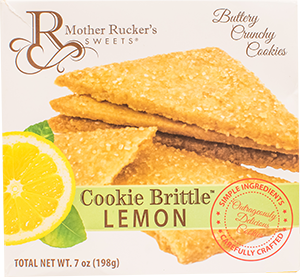 Mother Rucker's Lemon Cookie Brittle
These thin cookies are great for those who love crunchy desserts. This Lemon Cookie Brittle is thin crunchy, and delicious. Made with natural lemon oil and cream butter, these cookies make a great snack on their own or are perfect to garnish ice cream or other desserts. They also pair well with, you guessed it, tea! The lemon flavor is outstanding and each bite is infused with lemony sunshine. Try it with a scoop of vanilla ice cream topped with a drizzle of lemon curd.
---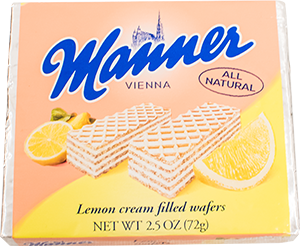 Manner's Lemon Cream-Filled Wafers
Manner's was founded in 1898 in Vienna, Austria with the motto "Chocolate for everyone— at an affordable price." Over 100 years later, Manner's is still delivering high-quality wafers at an affordable price. These don't contain chocolate, but they're still very good. The creamy lemon blends beautifully with the crunchy wafer to create a sunny, lemony treat. These are good on their own, but you can also use them as an ice cream topping. Crush them with the bottom of a heavy glass, then sprinkle over ice cream or frozen yogurt with whipped cream.
---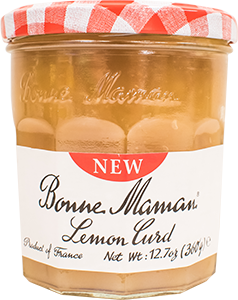 Bonne Maman Lemon Curd
If you haven't tried lemon curd, you're missing out on a delicious topping that can be used in practically everything. Well, maybe not quite everything, but you get the point! Lemon curd is made by combining lemon juice, sugar, eggs, and butter to create a smooth and creamy spread. It's tart, but not sour, and perfectly sweet. Lemon curd makes a great addition to cakes and other desserts, oatmeal, and can even be used to flavor meats. Incorporate lemon curd into your afternoon tea party by using it to top scones or as a filler for cookies.
---
Check out all of our Discoveries at the Jungle: Lemon posts this month!
Discoveries at the Jungle: Lemon
Discoveries at the Jungle: Lemon Extract, Oil, and Peel
Discoveries at the Jungle: Lemon Candies
Discoveries at the Jungle: Cooking with Lemon
Discoveries at the Jungle: Tea Time