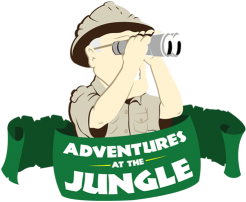 Welcome to Discoveries at the Jungle, where every month we pick a theme and explore items from around the Jungle that you might not have found on your own! We do this through our blog, with videos, recipes, and our brand new Discovery Box.
This month we're exploring the world of Japanese foods, and we are so excited that we're putting together one Discovery Box this month, but two! The first box will feature Japanese snacks raging from sweet to savory, and the second box has items that will help enhance your own sushi-making experience.
We are excited to bring together two great aspects of Japanese culture in-store, online, and at home. Join us and discover something new today!
Japanese Snacks

The first thing you will notice when looking at Japanese snacks is that they're fun, colorful, and sometimes just plain weird. You'll find anything from simple sweets to interesting seafood combinations. This month we will be featuring snacks like rice candy, seaweed, mochi, soda, squid (yes squid!), roasted peas, and more. It's time to step up your snack game and get adventurous!
Sushi

Sushi has evolved since before the 1300s, and it was a lot different back then. Originally, fermented rice was used to preserve fish (sometimes for months at a time). The rice was actually discarded when the fish was consumed. Once vinegar was added into the process the fermentation process was a lot faster and the overall taste of the sushi improved. Eventually, the fermented rice was dropped in favor of regular rice. Sushi as we know it today didn't come around until the 1600s, when fresh fish was served over vinegared rice.
There are countless types of sushi – from traditional to more Americanized versions. The most common sushi you will find in the US is either Uramaki or Futomaki. Futomaki is probably the most popular American style sushi roll, which are named from where their ingredients are from.
Our second box this month contains everything you need to make your own sushi rolls (minus the fish) and a few other goodies! Make sure you catch our "How To" guide to make it yourself!
Two Discovery Boxes: Japanese Snacks and Sushi! Right to your door!